Prof. Odile Limpach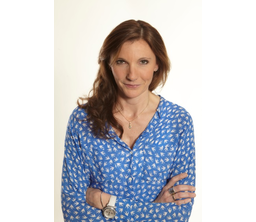 Standort Mülheim
Schanzenstraße 28
51063 Köln
Postanschrift
+49 221-8275-4054

odile.limpach@th-koeln.de
Lehrgebiete
Economics and Entrepreneurship
Forschungsgebiete
Strategic Consultant for serious games and cross-media projects

Vocational training and media development
Projekte / Kooperationen
Franco – German Accelerator for Videogames – SpielFabrique 360°

We aim at developing the French-German Ecosystem for startups in videogames and research the factors of success of these companies. The SpielFabrique Acceleration Program consists of online and on-site coaching which last six to nine months at the most. Together with partners (CNAM Enjmin, ARTE, Microsoft) student's teams and young companies are offered individual mentoring and financially funding.

Market Analysis Work Group

Initiate and animate a student group to follow and analyze the videogame market evolutions. Various sources of information are categorized and valued, analyses are made and shared with the Cologne Game Lab actors.

Marketing for Serious Game to improve refugee's literacy, Antura and the letters

Conception and writing of the marketing strategy and objectives. Coordination of the operations by a group of volunteers.
Vorträge
Key Note Games Vom Kulturgut zum Wirtschaftsfaktor

E-Days 2015, Vienna

Story Telling – Talk on Heroes in videogames

Book Fair 2014, Frankfurt

Cologne – Panel discussion on Free to Play Business Models

Gamescom Congress 2014

Lecture on The story of the Blue Byte Studio

Respawn 2014, Cologne

Panel discussion on post graduate studies in the German videogame industry

Next Level Conference 2014, Dortmund

Opening panel discussion on the business requirements for interactive media

Medienforum NRW 2013, Cologne

Key note on chances for women in the videogame industry

Girls Day 2013, Berlin

Panel discussion on technical innovation and the innovation potential of videogames

Bundestag Politiker LAN 2013, Berlin

Panel discussion on the challenges of the videogame market

GamesCom Congress 2012, Cologne

Key Note about social media and how they influence our way of making games

Deutsche Games Tage 2012, Berlin

Testimonial on career possibilities for women in the media industries

Medienfrauen 2012, Cologne

Panel discussion

Games Com Congress 2011

Presentation of the business models of the videogame industry

Strategietage Vertrieb und Marketing 2001, Berlin

Testimonial on the role of women in creative industries

Medienfrauen 2011, Cologne

Presentation on the German growth of Ubisoft and Blue Byte

French Embassy, 2011, Berlin

Workshop on necessary qualifications for media industry workers

Staatskanzlei NRW, 2011, Düsseldorf

Presentation of the videogame industry

Medienclub NRW Filmstiftung, 2011

Presentation on New Business Models for videogames under constraints of internet piracy

Bundesministerium für Wirtschaft und Energie 2010, Berlin

Frauen in der Medienbranche Europäische Zentrum für Medienkompetenz – Panel discussion

2010

Presentation and Workshop on Educational Standards in France and Germany, comparison

Ministerium für Schule und Weiterbildung NRW 2010, Düsseldorf

Key Note on experiences of developing and launching the FtP browser game Settlers On Line

Browser Games Forum 2009, Frankfurt

Key Note on entrepreneurial growth by buying of German companies

Annual CCE Meeting 2007, Berlin

Keynote on the growth of the videogames business

Mediengipfel 2007, Berlin

Co-organisation and key Note on the videogames market

Grand Prix VIE 2006 in the French Embassy, Berlin

Presentation at a seminar for French companies: How to optimize sales in Germany

Mission économique de Düsseldorf, 2006
Mitgliedschaften
Conseiller du Commerce Extérieur de la France (CCEF)

since 2000

Member of the Jury, Deutscher Computer Spielpreis, 2015 – 2017


Member of Quo Vadis Advisory Board – Berlin Gamesweek 2015-2017


Member of the Jury Deutscher Entwicklerpreis, Cologne 2016


Member of the commission Digitale Gesellschaft NRW.EU, Bruxelles, 2016


B3 Biennale 2014, Frankfurt - Member of the Think Tank


Member of the Strategie Workshop Digitale Wirtschaft NRW, 2014

Ministerium für Wirtschaft, Energie, Industrie, Mittelstand und Handwerk des Landes Nordrhein-Westfalen

Member of the Jury for Medien Gründer Zentrum NRW, 2014



Member of the Jury for Pilotförderprogramm Innovationsprogramm Digitale Medien NRW, 2012 - 2013


Member of the Board of BIU (Bundesverband Interaktive Unterhaltung), 2003-2006

Auszeichnungen
Chevalier de l'Ordre National du Mérite, 2009

Lebenslauf
since 2014
Strategic Advisor for Media Companies
Supports startups in their strategic orientation, positioning in marketing and sales. Cooperate with multi-channels media projects in various fields (TV, Virtual Reality) to start their offers. Develop Serious Games with industrial partners.
2008 - 2014
Managin Director (with power of attorney), Blue Byte GmbH
Managed the studio, carried the full profit and loss responsibility, defined and implemented the company strategy. Negotiated and implemented the buying of an external studio in Mainz (60 persons) and managed the complete integration within Blue Byte. Initiated and implemented a change strategy to become a multi projects and multiplatform (Console, PC, Online and Mobile) studio. Managed the growth of the studio from 40 persons to 300 within 4 years. Participated actively to the steering of the game projects with the project managers. Created the business cases of all projects and follow up on economic results. Defined and implemented the HR strategy to grow and expand the skills profile of the studio in all fields of videogame development. Started and grew the online Free To Play business for seven games, position the studio as online specialist within the group and expanded the activities to online publishing worldwide. Reported to headquarters in Paris, being part of an online task force. Represented the company toward governmental institutions.
2000 - 2007
Managing Director for Germany and Austria (with Power of attorney) Ubisoft GmbH
Managed the subsidiary with profit and loss responsibility, defined and implemented the company strategy. Supported and actively steered the buying and integration of two big videogame brands and studios (Settlers and Anno). Grew the subsidiary from 30 to 80 persons, increased the market shares to become No 3 independent publisher on the market. Responsible for the distribution and marketing of the portfolio of video games in Germany and Austria. Managed closely the relationships with the key accounts, defined and implemented the marketing and sales strategy. Founded and grow the Austrian subsidiary. Created the HR strategy and develop numerous HR activities. Developed business relationships with several German developers to acquire distribution rights.
1996 - 1999
Marketing Manager for Ubisoft GmbH in several positions
1998-1999 Marketing Director Created, built and recruited the complete marketing department of 15 persons to take care of PR, product positioning, trade marketing and advertising strategies and implementation. 1997-1998 International Marketing Manager Racing Games Worked closely with the creative teams to follow on development mandate, create game positioning and proposing international marketing and sale strategies to the subsidiaries worldwide. Reporting directly to the headquarters in Paris. 1996-1997 Product Manager Video Games Marketed the Gaming portfolio of Ubisoft, among others Rayman Playstation and POD PC. Responsible for the product management and the launch of the games on the German market.
1994 - 1996
Deputy administrator at 3H International Spedition
Supported the managing director in all administrative tasks, responsible for introducing an ERP software together with the headquarters in Marseille.
1993
Master of Business Administration (MBA), IndianaUniversity of Pennsylvania (USA)    

1988 - 1992
Ingénieur Commercial, Institute de Commercial Nancy (France)

1988
Baccalauréat C Maths and Physics, Paris (France)