Virtual Network Meeting for Doctoral Coaching 2021
To kick off the new year of the collegial coaching program for doctoral candidates at TH Köln, the doctoral candidates, coaches and university representatives came together for a virtual network meeting on October 18, 2021.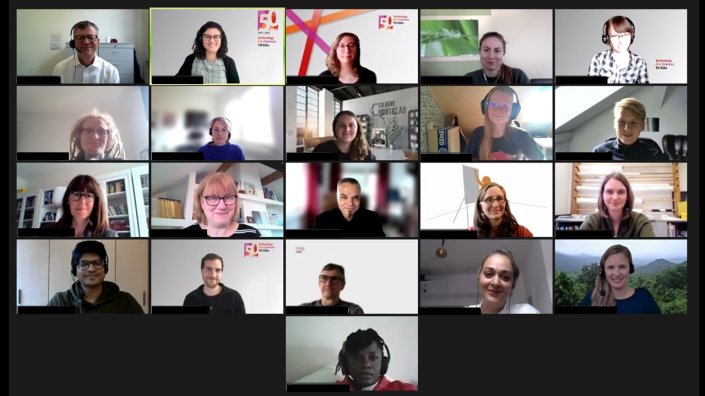 The new year of the collegial coaching program for doctoral candidates at TH Köln participants started with a greeting from the Vice President for Research and Knowledge Transfer, Prof. Dr. Klaus Becker, followed by some information on the evolvement of the program from the Central Equal Opportunities Officer, Petra Liedtke, and the Head of Didactics in the Center for Teaching Development, Dr. Birgit Szczyrba.
The event continued with a video lecture entitled "What I would have liked to have known earlier" by Jutta Wergen, science coach, who accompanies and supports doctoral candidates. In her keynote, she addressed the experiences of doctoral candidates, which they gathered during their doctorates, and she clustered these experiences into groups: work-life balance, work systematics, attitude, support network / doctoral support, professional exchange/career support, and the writing process. This resulted in valuable impulses for the doctoral candidates, which were then discussed in small groups. Back in the plenary session, the focus was put on the steps that can be taken towards good experiences in the doctoral phase.
At the end of the event, the new coaching groups had the opportunity to get to know each other and were able to exchange ideas with their respective coaches about current issues and expectations of the program.
The collegial coaching program for female doctoral candidates at TH Köln was developed in 2016 as an equality measure by the Center for Teaching Development and the Equal Opportunities Office in cooperation with the Graduate Center of TH Köln. In 2018, the coaching program for male doctoral candidates was launched as a supplementary measure. In the 6th and 4th year of the program, 13 female and 7 female doctoral candidates from the TH Köln are currently taking part in the coaching programs. However, there are still places available!
The doctoral students come together three times a year in coaching workshops with a maximum of 9 people to discuss challenges and progress in their doctorate. Two experienced coaches, Dr. Antje Schultheis and Dr. Christian Dumpitak, accompany and lead them. For international doctoral researchers, an English-speaking group has been set up.
You can obtain more information about the coaching program for doctoral candidates from the Graduate Center service point.
Oktober 2021