Coaching Program for Doctoral Researchers
Since 2016, Graduate Center, in cooperation with the Equal Opportunity Office and the Center for Teaching Development, offers a coaching program for female doctoral researchers. A coaching program for male Ph.D. candidates has been set up since 2018. In addition to specific competence enhancement and networking, the goal is to strengthen your decision-making confidence in self-management.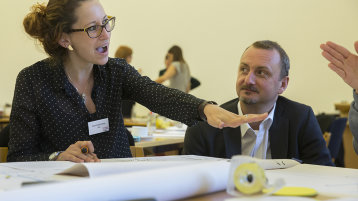 The process of a dissertation project is rarely straightforward. As a doctoral researcher, you carry out a complex research project with high intellectual demands based on a very high degree of responsibility, but also with risk of failure. At the same time, you develop scientific and professional skills that lead to consistent career planning. Perseverance, a goal oriented behavior as well as methodical research approaches and a motivating work environment are of a major importance during the doctoral process. Additionally, a balance between the diverse fields of responsibilities regarding the doctoral process should be achieved.
The coaching program for doctoral candidates monitors these challenges by analyzing possible difficulties in advance, structuring the doctoral process in a proactive way, mobilizing resources, developing competencies, and gaining a different perspective on your doctoral project.
With the help of regular coaching sessions, a structure is implemented which helps you to generate individual and joint solutions to arising problems while anticipating potential challenges. In this way, you can develop successful self-management to optimize individual success, which, in addition to the added value of networking, also leads to successful career planning.
Offer Collegial Coaching Program for Doctoral Candidates at TH Köln
Registration

For more information on the coaching program, please see the announcement in the box on the right. Please register for the coaching program (all 4 coaching workshops) by email (graduatecenter@th-koeln.de), indicating the title of your Ph.D. thesis, the name of your supervisor(s), and the language you prefer. Places will be allocated on a first come, first serve basis.