How to Apply as a Degree-Seeking Student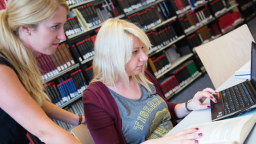 If you have selected one or more study programs at TH Köln you want to apply for, we strongly recommend informing yourself about the right way of applying. The correct way for you to apply is determined by your citizenship, your desired program and your previous academic qualifications.
Jump to
Refugees: For personal consultations, please contact us to arrange an appointment.
In order to find the right way of applying, please look at the information given in the tables below.
Applying for a Bachelor's program
If you are unsure whether or not your desired program has got a restricted admission, please go to Programs to find out. You can filter by "with numerus clausus" (restricted admission) and "without numerus clausus" (without restricted admission) under "Type of admission procedure".
IMPORTANT: When applying for a Bachelor's program with restricted admission, please read the information about dialogue-oriented service procedure (DoSV) [German].
Applicants with Feststellungsprüfung
The Feststellungsprüfung (e.g. as a degree from a Studienkolleg in Germany) is only valid in conjunction with your foreign secondary school certificate and therefore counts as a foreign higher education entrance qualification, i.e. not as a German certificate. Please follow the instructions in the table above.
Do you receive your Feststellungsprüfungszeugnis only after the application deadline? Then please contact us.
Applying for a Master's program
I am interested in applying for a Master's program

I am an applicant with...
I need to apply via...

German citizenship,

but no German certificates.

TH Köln's

German undergraduate degree
(no Master degree).

TH Köln's

no German citizenship and

no German undergraduate degree.
What are the application deadlines?
The application deadlines for all Bachelor's and Master's programs can be found on the individual program pages. Please click on the course of studies and then on "How to apply". Please read carefully what application deadlines apply to you!