Application via uni-assist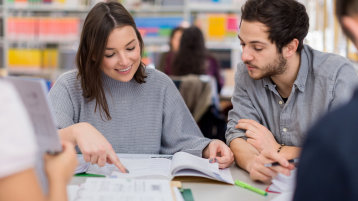 Uni-assist – the University Application Service for International Students – is responsible for the administrative preparation and checking of study applications for German universities. Uni-assist will determine whether you meet the admission requirements of your desired program at TH Köln and will convert your grades into the German grading system. The admission decision will be made by TH Köln.
You have completed your secondary school education in your home country and have been awarded your secondary-school diploma. The highest secondary-school diploma to be awarded in Germany is called Abitur or Hochschulzugangsberechtigung (Higher Education Entrance Qualification). TH Köln has charged uni-assist with the task to check whether your secondary school diploma is equivalent to a German Abitur or Fachhochschulreife or whether your previous university studies will qualify you to study at master's level.
Important note
For the summer semester 2021 you can apply in digital form at uni-assist, you do not have to send any documents by post. We reserve the right to check these documents during the enrollment.
Corona/ Covid-19 Pandemic
If you encounter difficulties in preparing your application documents, please contact: international-affairs@th-koeln.de. You can also reach us by telephone: +49 221-8275-3772.
UNI-ASSIST
TH Köln
c/o Uni-Assist

D-11507 Berlin

Phone: +49 30 666 44 345
Office hours: Mondays to Fridays | 9:00 am to 3:00 pm (CET)
How does uni-assist review my documents?
The application service uni-assist in Berlin checks your application documents for authenticity and checks whether you meet the admission requirements of your desired program at TH Köln. Additionally, your grade point average will be converted into the German grading system.
After having registered online on the uni-assist application platform, you need to send your documents to uni-assist by post before the application deadline. It is important that your documents reach uni-assist on the application deadline at the latest. Should they arrive after the deadline, your application cannot be considered.
Uni-assist charges a handling fee of € 75 for your first desired course of study. Each additional desired course of study costs an additional 30 €. More information about handling fees and payment options is available on the uni-assist website. The payment of the handling fee is made online during the registration in the portal "My assist". Without the payment of the handling fee, it is not possible to apply and review the documents.
It takes approximately four to six weeks for you to receive the results of your document review by post and email. Provided that you meet the admission requirements in place for your desired program, uni-assist will at the same time forward your application directly to TH Köln. Please note that TH Köln will not get in touch with you before middle of December in case you apply for the summer semester and not before middle of May, in case you apply for the winter semester.
If your academic documents are deemed insufficient for an application to your desired program, your application cannot be considered. This will also be the case if your application to uni-assist is incomplete or is received past the deadline or if the application does not fulfill the formal application criteria and required standards.
Certified copies
Where can I have my documents authenticated?
What formal criteria and standards do my application documents need to fulfill?
All academic and language certificates must be submitted as officially authenticated copies in the original language. If your documents are issued in a language other than German or English, you are required to hand in a translation into German or English by a sworn translator. All translations must also be submitted as officially authenticated copies. All authenticated copies must be submitted by post in paper form. Submitting these documents in electronic form is not sufficient.
Please note that the copies of the certificates in the original language and of translated certificates must be certified. As a rule, the city/registration authority only certifies German-language certificates. However, certification of the copies of translated certificates alone is not sufficient for the application. Notaries, on the other hand, are entitled to certify all certificates.
We recommend that you submit your documents to uni-assist as early as possible. You cannot submit any application documents after the application deadline.
Which documents do I need to send to uni-assist?
uni-assist application number
When communicating with uni-assist or TH Köln, please always indicate your uni-assist application number.
Applicants with Feststellungsprüfung
Do you receive your Feststellungsprüfungszeugnis only after the application deadline? Then please contact us:
international-affairs@th-koeln.de
Please submit the following application documents to uni-assist in Berlin by post:
Please write down your uni-assist application number (for example on your passport copy)
Officially authenticated copies of your secondary school diploma and – if applicable – your university entrance exam (original language and if applicable translation)
If applicable: officially authenticated copies of all passed university examinations and - if applicable - your university diploma (original language and if applicable translation)
If you have graduated from a Studienkolleg: officially authenticated copy of you university entrance examination certificate (Feststellungsprüfungszeugnis)
Applicants with documents from China, Mongolia (until 2018) and Vietnam: your APS certificate (original document)
Authenticated copies of your proof of German language proficiency for programs with German as language of instruction (likewise proof of English language proficiency for programs with English as language of instruction)
Curriculum Vitae (CV)
Copy of your passport pages containing personal information
If you have had your name changed: copy of the relevant document; e.g. marriage certificate
Additional documents - required for certain programs only
Some programs require you to send additional application documents to uni-assist in Berlin. Please visit the website of your desired study program and check the How-to-apply section about the admission requirements. There you will find out whether you need to submit additional documents with your application. These might for example include:
Proof of successful aptitude test
Proof of required language skills
An additional application form for the specific program
Letter of motivation - required for certain master programs only
Proof of work experience - required for certain master programs only