German Language Skills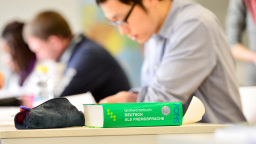 The language of instruction in most study programs at TH Köln is German. You are required to have an excellent command of the German language to successfully master your studies.
What German language skills do I need to enroll at TH Köln?
If you seek to obtain a degree at TH Köln, you need to have German language proficiency at the DSH 2 level (German language proficiency test for the admission of international students). TH Köln only accepts DSH certificates from universities whose DSH exams are registered with the German Rectors' Conference (HRK):
List of HRK-registered DSH-exam [in German]
Alternatively, you can prove your knowledge of German on this level by providing one of the following certificates upon enrollment:
successful graduation from the Cologne Prep Class at TH Köln
TestDaF with a total score of at least 16 points
telc C1 Hochschule
level II of the German Language Diploma of the German Standing Conference of the Ministers of Education and Cultural Affairs
the Kleine Deutsche Sprachdiplom (Minor German Language Certificate) or Große Deutsche Sprachdiplom (Major German Language Certificate) (acquired after 12-31-2011)
Feststellungsprüfung
Goethe-Zertifikat C2: Großes Deutsches Sprachdiplom (GDS)
the Zentrale Oberstufenprüfung (Advanced Level Examination – ZOP) of the Goethe Institute or a Volkshochschule (acquired after 12-31-2011)
successful graduation from a three year German-language univesity degree program in Germany
successful completion of a three year vocational training in Germany
successful graduation from a German-speaking secondary school in Austria, Switzerland, Liechtenstein, Belgium, Luxemburg or South Tyrol
European Higher Education Entrance Qualification from a European School completed with an exam in German as first language (L1) or second language (L2)
US-Advanced-Placement-TEST (AP) in the subject German
additional certificates according to the resolution of the Standing Conference of the Ministers of Education and Cultural Affairs of the Länder in the Federal Republic of Germany
What is the minimum required German language level I need to prove for the application?
Should you not have obtained one of the language certificates stated above by the time of applying, you may apply with one of the following language certificates or test scores.
a C1 language certificate in accordance with the Common European Framework of Reference for Languages (CEFR)
DSH 1
TestDaF with at least three points in each section
Zentrale Mittelstufenprüfung (Intermediate Level Examination – ZMP) of the Goethe Institute oder the Volkshochschule in Germany
certificate of participation in a DSH exam (written and/or oral part) at a university
certificate of registration in a DSH preparatory course at a university
certificate of participation in a TestDaF exam
certificate of participation in a telc C1 Hochschule exam
successful graduation from a university degree program majoring German philology, German language and literary studies or German linguistics
Please be aware that you may only commence your study program at TH Köln if you hold a DSH-2 language certificate or its equivalence. You will need to present this proof of German language skills upon enrollment.
In case you cannot present a DSH 2 certificate or equivalent certificate during enrollment, you may take part in the DSH exam at the TH Köln Language Center. The exams will be held prior to the beginning of the semester (beginning of March for the summer semester and beginning of September for the winter semester). Please be aware that you will need to pay the DSH exam fees of approx. €130 yourself. For further details about the examination dates and DSH exam registration please contact the TH Köln Language Center.
What options do I have if I my German language skills are below C1?
If your German language skills are below the C1 level at the end of the application deadline, you may alternatively apply for the DSH Vorbereitungskurs (DSH preparatory course) at TH Köln. This course starts at the B2 level and concludes with the DSH examination after one semester. Please contact TH Köln language center for further information.
I am applying for an English taught program - which language skills do I need to prove?
TH Köln offers international programs taught entirely in English. In these programs, you are not required to be proficient in German:
Please make sure to read up on which proof of English language proficiency you need to submit with your application on the website of the individual Programs.