Your Student ID Card: MultiCa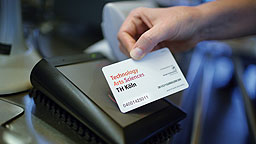 Your 'MultiCa' is your student ID card and public transport pass for the entire Rhine-Sieg Transport Association (VRS). Additionally, it serves as your library and copy card, can be used to pay in all university cafeterias and gives you access to the university lockers.
Name and design
The chip card's design is determined by its technical requirements (position of the chip, validity imprint, etc.) and includes the university's corporate design as well as personal information on the cardholder.
Information on the card
The following information is visible on the front of the card:
TH Köln's name and logo
"Studierendenausweis / Student Identity Card" lettering
Student's photo
Student's first and last name
Student ID number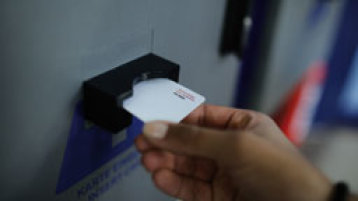 Once validated, the card bears the following information on the rewritable thermal foil on the bottom half:
Semester for which the card is valid
Information on the public transport pass ('semester ticket') including VRS logo (if the owner is eligible for a semester ticket)
Validating your MultiCa
You can validate your MultiCa at one of the numerous validating stations during the entire campus opening hours.
The back of the card shows:
Mifare identfication (4 bars in the upper right-hand corner)
Kölner Studierendenwerk logo
Library ID number
On the chip itself, only a minimum of information is stored. For more details, please read the information on Data Security and Protection.
Receiving the card
How do I get my MultiCa?
New students enrolling at TH Köln are required to hand in a special form along with a separate picture for the MultiCa with their enrollment documents. They will usually receive their card by mail shortly after their enrollment.
Costs
Your first MultiCa is issued free of charge.
If the card is damaged or does not work properly you will receive a replacement, also free of charge.
If a replacement is necessary due to loss or improper handling of the card, a fee of €12.50 will be charged.
No advertising is displayed on the MultiCa and it will not be refinanced by advertising revenues.