MultiCa - Your Student ID Card
Changes to the cashless payment function from March 1, 2023
The cashless payment function has changed as of March 1, 2023. While some changes are already implemented, a few are still underway. Please check the German info page for details on the current status:
Distribution of the MultiCa
New students enrolling at TH Köln are required to upload a photo for their student ID card as part of the online enrollment process and receive their MultiCa by mail free of charge.
How do I validate my card?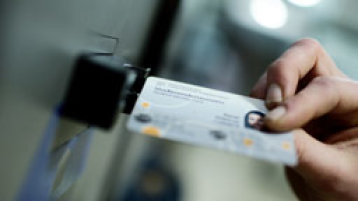 When the MultiCa is validated, its chip is activated for the upcoming semester. Additionally, its validity is printed on the front side of the card. You can validate your card yourself at any of the following MultiCa stations:
Südstadt Campus
Claudiusstraße 1, in the hallway in front of the Office of Student Services
Ubierring 48, in the entrance hall
Deutz Campus
In the entrance hall, next to the door attendant's desk
Gummersbach Campus
in the new library building (please take note of the library's opening hours)
Leverkusen Campus
Ground floor, room 101
Mülheim Site
Room 219
Cashless payments with your MultiCa
You can use your MultiCa to pay for print outs and copies at all university printers and copy machines.
However, since March 1, 2023 your MultiCa can no longer be used to make payments in the dining halls ("Mensa"), cafeterias and coffee shops managed by Studierendenwerk. You can now pay for your food and beverages with your credit or debit card, Google Pay or Apple Pay. Note that you still need to present your MultiCa when making your payment.
Changes to the cashless payment function and remaining balance
The cashless payment function of the MultiCa has changed as of March 1, 2023. The payment function uses a different section of the MultiCa than before. This means that after March 1, 2023 any remaining credit on your MultiCa can no longer be used for cashless payments at TH Köln. You need to request a refund of your remaining credit from the Studierendenwerk.
For more information on the new payment system, please visit the
website of the Studierendenwerk [in German]
Printers and copy machines
All printers and copy machines have been set up for the new cashless payment function of the MultiCa as of March 1, 2023, i.e. you will be able to use your MultiCa for printing, copies and scans as usual if you have loaded money on your card.
Cash registers in printing offices ("Druckerei") and faculties
These cash registers remain unchanged for the time being. We are planning to replace these cash registers in the near future. Once this is done, you will be able to pay with your MultiCa or your debit or credit card.
Refund of remaining credit
If you load money on your MultiCa after March 1, 2023 you can transfer any remaining credit back to your bank account using the payment stations in one of the libraries.
I lost my MultiCa
If you have lost your MultiCa or if it no longer works due to improper handling you are required to pay a fee of € 12.50 to receive a new card. You can make your payment using one of the payments stations located in our libraries:
Südstadt Campus
Ubierring 48, entrance hall of the library
Deutz Campus
Entrance hall on the ground floor of the library
Gummersbach Campus
Steinmüllerallee 4, in the library
Leverkusen Campus
Ground floor, room 101
Make sure to keep your payment receipt. You need to show it to the Office of Student Services, where you will be issued a new card. If we issue a new card, the old one will be blocked automatically.
My MultiCa no longer works
If your MultiCa no longer works but does not show any signs of improper handling, it will be replaced free of charge. Please contact your Office of Student Services.
Transfer of remaining credit of lost or broken cards
Should your lost or broken card still have money on it, you may transfer the remaining credit to your new card. The Office of Student Services will issue you a document confirming the replacement of your card which states the serial number of your old and new card. Make sure to keep this document as you will need it to transfer your credit to your new card.
Please make an appointment by email to transfer your remaining credit: hochschulausweis@th-koeln.de
At the moment, we can only offer this service on our Südstadt Campus (Gustav-Heinemann-Ufer 54). We are working on solution to make this service available on our other locations as well.
Please note: Your card must have been updated at one of the MultiCa charging stations (for a list of locations go to How do I load money on my MultiCa)
Error 448
This error occurs if you remove a card from a vending machine before the payment has been completely processed. If this error message is displayed you need to go back to the payment station that you last used and insert your MultiCa again. A number code in the error message indicates where you last used your card. A list of all vending machines is available for download.
Why does this happen?
While making a payment the card is temporarily blocked. At the end of the payment process the block is removed. If a card is removed too quickly from the payment station it gets stuck in this process and the error message "Karte ist im Löschstatus" is displayed.
How do I load money on my MultiCa?
You can top up your card using your debit or credit card or the payment function of your smartphone. Remaining credit can be refunded to your account within three years of the last time you topped up your card.
Charging stations are located here:
Deutz Campus
Entrance hall of the library (ground floor)
'Altbau' Room 30
Südstadt Campus
Ubierring 48, entrance hall of the library
Gummersbach Campus
Steinmüllerallee 4, in the library
Campus Leverkusen
Ground floor, room 101
MultiCa functions
If your MultiCa is validated for the current semester, it can be used for the following purposes:
Student ID card (German and English)
Library card incl. using self-service desks
Use of copy machines and printers
Access to the university parking lot (Gummersbach and Deutz Campus)
TH Köln's parking regulations [in German] must be observed on all parking lots.
Access to lockers
Cashless payments e.g. for printing
Public transport pass
Since the winter semester 2021/22 both the public transport pass for the Rhein-Sieg transport network (VRS) and for North Rhine-Westphlia (Semesterticket NRW) can be printed or downloaded to your smartphone. This means that the public transport pass is no longer connected to the MultiCa and thus the MultiCa no longer carries the VRS imprint.
For more details please refer to the semester ticket video tutorial or the website of the General Students' Committee (AStA) [in German].
Data protection and security
Only the following information is stored on your card: card's serial number, your student ID, your status at TH Köln (student, employee, guest), your library number and the validity period of the card. For the payment function the amount of money currently loaded on the card is stored but no information on how the money is used.
Profiling is not possible. No additional information, e.g. on your program or grades, are stored on the card. The above mentioned data is only used to access the databases of the administration systems.
We are commited to protection your personal data. Our Data Protection Officer has overseen the introduction of the MultiCa at TH Köln and is informed of all updates and changes. He ensures that the MultiCa complies with all data protection regulations. New features are only introduced if the Data Protection Officer has given his consent.