Lifelong Learning - Based on Scientific Facts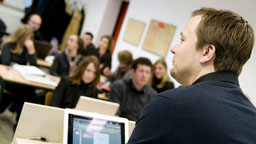 "You can't teach an old dog new tricks" - whole generations grew up with this proverb in mind. However, its message did not survive the transition from an industrial to a knowledge-based society. Lifelong learning has become the paradigm of today's education policy.
Vice President Prof. Sylvia Heuchemer explains TH Köln - University of Applied Sciences' further-education concept:
We are currently experiencing scientific and technological progress with increasingly rapid innovation cycles.
This situation requires us to keep our skills and expertise up to date. It does no longer suffice to prove what you are able to do but what you are able and willing to learn. The ongoing demographic change has added momentum to this development and the demand for skilled personnel is too high to be met by university graduates alone. Today, companies are reliant on innovative academic knowledge more than ever before; and they can acquire this knowledge by providing further education and qualification for their staff.
Against this backdrop, academic further education as part of the educational mission of German institutions of higher education is becoming increasingly important and has opened up an interesting field of responsibility of great socio-political relevance. In light of increasing competition, universities must carefully consider how to tackle this educational mission and assemble their course portfolio.
Continuing personal educational development
TH Köln aims to deliver an education with practical relevance: our academic activities have a strong - if not exclusive - focus on professional qualifications through applied research and development. Due to our proximity to professional reality and application-oriented research, our institution is perfectly suited to offer further academic qualifications and support for lifelong learning activities. As an institution of higher education that perceives itself as a universitas studiorum et scientarium, our further-education concept does not only include "lifelong learning", meaning the pursuit of additional professional qualifications, but also "continuing education", which aims at advancing one's personal educational process.
Using different educational biographies as creative potential
Learning is part of every educational and professional biography. The process of learning is important to us, no matter if it aims at improving professional skills or if it is to contribute to one's personal development. Our teaching and learning concepts are based on the assumption that learning is always an active, constructive as well as social process. Our participants have very diverse social and educational backgrounds. A fact that we perceive and use as a creative potential to learn with and from each other. We build on existing skills and knowledge and jointly work on current topics and questions of practical relevance.
Transferring new skills to the job
All of our further-education programs build on application-oriented teaching and learning arrangements that give participants access to scientifically sound expert knowledge from a specific professional field. We promote professional expertise as well as key skills to facilitate a smooth transfer of newly gained knowledge and skills to the job.
Combining E-Learning with Face-to-Face Instruction
We offer a variety of further-education options: short-term courses and expert conferences, part-time courses which last several semesters as well as Advanced Master's programs. In many cases, especially when it comes to academic further education, face-to-face instruction is essential and the social component of learning activities should not be underestimated. As a result, we make use of didactically sound Blended Learning concepts, combining e-learning with traditional face-to-face instruction.