Studying Abroad with Erasmus+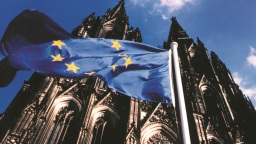 Erasmus+ is the world's largest scholarship and exchange program on a university level and makes one of the European Union's greatest success stories.
Jump to
Erasmus+ allows you to spend part of your studies at a university in another European country. Apart from enhancing your social, cultural and language skills, you will get a grasp of academic life at a foreign university and benefit from its different methods of teaching and learning.
Requirements
Before going on a stay abroad with Erasmus+, you will need to meet a number of requirements, most importantly in terms of your language proficiency and academic aptitude. Additionally, the program you are currently enrolled in has to lead to an officially recognized university degree at TH Köln - University of Applied Sciences. You may participate in the Erasmus+ study program after your second semester at a university at the earliest while the length of your stay needs to be longer than three months but may not exceed twelve months.
You may study or do an internship abroad during each of your study cycles – Bachelor, Master or PhD – for twelve months' time. The country you in which you spend your stay abroad may vary. This means that you could, for instance, spend five months of your Bachelor's program at a university in France, another five months at a university in Poland and top it off with a two-month internship in Sweden all funded by Erasmus+.
Language proficiency
All mobilities incorporate a mandatory language test. This test is designed to assess your language skills but will not result in the withdrawal of your acceptance by your host university or enterprise. Rather, the language test is scheduled to be tied to an online language license so that some students will be able to participate in online language courses.The language test is projected to be available for the languages English, French, German, Dutch, Spanish and Italian.
The International Office will continue to fund courses for "less widely spoken languages" – languages other than English, French, Spanish, Italian and German that used to be covered by the Erasmus Intensive Language Courses (EILC) – with a fixed amount of 200 euros.
If you participate in a language course abroad prior to your mobility, the duration of this course may be included in your mobility period. To do so, you will need to provide us with a confirmation of having successfully completed the course. The mobility, however, remains subject to the maximum duration of five months for one semester and ten months for two semesters and cannot be extended.
Erasmus+ benefits
Guaranteed scholarship of at least 170 euros per month
Exemption from tuition fees at your host university
Simplified enrollment procedure at your host university
Academic Erasmus+ coordinators at your host university and at TH Köln
Support regarding your language preparation
Academic recognition of credits obtained abroad
Scholarship
One component of the Erasmus+ study program is a mobility grant designed to compensate for the costs incurred during the stay abroad. The monthly scholarship rate is determined by the country of your stay.
Project year 2019/20 (until 31.8.2020)
Group 1: UK, FI, SE, DK, IE, NO, LI, IS, LU
420,- Euro per month
Group 2: FR, IT, ES, DE, NL, BE, PT, GR, CY, MT, AT
360,- Euro per month
Group 3: PL, RO, HU, LT, SK, BG, LV, EE, HR, SI, CZ, TR
300,- Euro per month
Payment of the scholarship
You will receive 80% of your grant at the beginning of your stay; the remaining 20% will be paid once you have completed your stay and have handed in all required documents and reports.
Additional funding for students with children and/or special needs
In order to warrant equal opportunities, handicapped students – students with a degree of disability of 30 percent or higher – as well as students with special needs, such as students with children or those faced with hardships may request complementary funding to cover their additional needs.
Further useful information on studying abroad as a parent is also available in german only on this external website. For further information about your mobility with a disability check DAAD. You are highly welcome to contact Ms. Janina Knöll.
Application
The foundation of an Erasmus+ student exchange are the bilateral cooperation agreements in place between TH Köln - University of Applied Sciences and its partner universities from abroad. We therefore ask you to first inform yourself about the co-operations offered for your degree program in our overview of partner universities. Should you be interested in staying at a university that does not cooperate with your faculty but is a partner university of TH Köln, we may still be able to place you in a vacant spot.
Applying for a place in the Erasmus+ program takes two separate steps. You apply for the place with the Erasmus+ coordinator of your faculty/institute, who will also support you in all academic questions. If possible, please apply around nine months before you plan on beginning your stay. Make sure to inquire with your Erasmus+ coordinator about potential deadlines, as some faculties or partner universities set their deadlines rather early. Your coordinator will also be able to inform you about specific selection criteria, such as required application documents or letter of motivation. The entire selection process is coordinated by your faculty; the allocation of Erasmus+ places is decided upon by the Erasmus+ coordinator. This decision will then be forwarded to the International Office. Should there be more applicants than places for some universities, the faculties will keep waiting lists.
The International Office is in charge of the administrative part of the process. In June - or December for students leaving in summer semesters – the International Office will contact the selected students to inform them about the administrative part of the Erasmus+ mobility and hand out all necessary documents. The International Office staff will make sure to assist you throughout your entire stay abroad.
Following your selection, you are required to participate in a mandatory online language test to have your language skills assessed. The International Office will provide you with detailed information on this test once you have been selected.
We also ask you to take the time to read our detailed information on the application process in our Guidelines Learning Agreement - Studies available as download on this page.
Extending your stay abroad
It is possible for you to extend your stay at your host university. To do so, the International Office of TH Köln must have received an informal request for extension at the latest one month prior to the originally scheduled end of your stay. This extension has to be entered into the Learning Agreement – Table A2 and Table B2 – and needs to be confirmed through original signatures.
Application documents
The following documents are essential when it comes to the application for and documentation of your Erasmus+ study program:

Erasmus+ Checkliste - Study Abroad
Certificate of enrollment of TH Köln for the period of your semester abroad
Passport-size photograph
Grant Agreement (GA) – you can generate this document in Mobility Online
Learning Agreement (Project Year 2020/2021): Please take notice of the supplements to the Learning Agreement.
Learning Agreement (Project Year 2019/2020): Please take notice of the supplements to the Learning Agreement.