Getting Started at TH Köln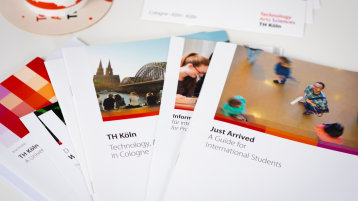 Where do I find my schedule? How does PSSO work? What do I need ILIAS for? What is a Fachschaft? At the beginning of your studies, you probably have lots of questions. This webpage can help you navigate your start at TH Köln.
Your faculty – for all information on your degree program
When it comes to planning and organizing your studies at TH Köln, we recommend you get in touch with your faculty, as numerous aspects such as your class schedule or course registration are handled differently in each program.
First-year students orientation
Most faculties offer welcome or orientation events for their first-year and exchange students at the beginning of each semester. You will receive vital information on our university, your program and on studying at TH Köln. These events provide an excellent opportunity to ask questions about scheduling your courses. We therefore strongly recommend you participate in these events. Please refer to the First-Year Students Information to find out about the date of your orientation event.
Choice of subjects and timetable
In order to select courses for your semester, you should take a close look at the study and examination regulations for your course of study. Often there is also a study plan that indicates when you should ideally take certain courses. If you have any further questions, please contact the course coordinators or faculty student association.
Depending on your study program, you will either have courses according to a fixed timetable or you will have to arrange your own courses at the beginning of the semester. Please note that you will have to register for many courses in groups on your own. You should be able to access the current list of lectures for your degree programme via the website of your faculty shortly before the beginning of the semester. There are also posters in the faculties.
Fachschaften – "Faculty Student Association"
The Faculty Student Associations (German: Fachschaften) are a good first point of contact if you do not want to go directly to a professor with a question, as they are organized by other students.
Many Faculty Student Associations organize social events for first-year students, sell lecture notes, help you with questions about the timetable and provide information on examination matters, for example how to behave in case of illness during exams and in which cases you can view your exam. Its members advise and connect students throughout their studies and across semesters. You can drop by the student council's open office hours with any concern.
Good to know: A Faculty Student Association is made up of all students of an institute/faculty. This means that you are automatically a member of a Faculty Student Association when you enroll. If you would like to get actively involved beyond that, contact your Faculty Student Association directly and find out how you can get involved.
New members are always welcome.
CampusID
CampusID
Registration in the CampusID-Center
The campusID is your personal university account. It consists of user name and password and allows you to log in to various systems that are made available to you as a university member. These include, for example, your university e-mail inbox, access to the university network via VPN, the online examination and student service (PSSO) or the campusID center.
ILIAS learning platform
ILIAS Login
Please log in using your your campusID username and password.
ILIAS is an electronic learning platform facilitating the communication related to courses and lectures. ILIAS allows you to download course material, register for courses and get in touch with your lecturers and fellow students.
For many courses, you need to have registered for the course before being granted access to the course material. Access might at times also be restricted by a password, which you will receive from the lecturer of the individual course. More information is available on the ILIAS homepage.
The Department of International Affairs also has a platform on ILIAS.
CaMS
CaMS is TH Köln's Campus Management System.
Please log in with your CampusID.
Students can
Edit their personal and contact information
Get Information on fees and payments
Get Information on your programs and your re-registration for the upcoming semester
Print Certificates of enrollment, BAFöG certificates and applications/requests (e.g. application for a leave of absence)
PSSO
New registration PSSO
To log in to PSSO, you will need your campusID and password. Before you register for the first time, please activate your campusID in the campusID Center.
Semester Ticket
The SemesterTicketNRW is included in your semester fee. You can download the ticket on the website www.ots-nrw.de.
More information can be found on the websites of the AStA.
Students of TH Köln can "upgrade" their semester ticket (which is valid in all of North Rhine-Westphalia (NRW)) to a Deutschland-Ticket (which is in valid in the whole of Germany). The upgrade is made at www.ots-nrw.de (where you already downloaded the semester ticket).
Under "SemesterTicket Upgrade Deutschland-Ticket" you select "Verkehrsverbund Rhein-Sieg (VRS)" and then select TH Köln.
Then you can buy the upgrade a month at a time, for 15,28 Euro per month (corresponding to the difference between the already-paid semester fee and the 49,00 Euro of the Deutschland Ticket).
In case of a ticket inspection, both the SemesterTicket NRW and the valid upgrade ticket as well as an official photo ID must be shown. The details of the ticket user must match on both tickets.