Visa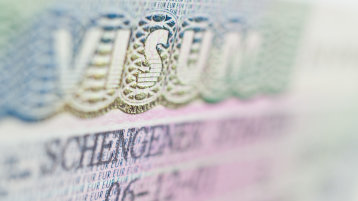 Many international students and guest scholars require a visa to enter Germany. Make sure to inform yourself in time whether you need a visa and – if you do – what type of visa you require and where you can obtain it.
Do I need a visa?
Whether you need a visa to enter Germany as well as which type of visa you need, depends on
your citizenship
the duration of your stay
the reason of your stay
EU/EEA-citizens and citizens of Switzerland
Citizens of the European Union as well as Iceland, Liechtenstein, Norway and Switzerland can enter Germany without a visa. You are solely required to have a valid official ID card or passport. As soon as you have found permanent accommodation, please register your address of residence with the residents' registration office responsible for you.

Non-EU citizens
Citizens from countries outside the European Union generally require a visa to enter Germany. Please apply for a visa at the German embassy or German consulate in your home country. If you intend to enroll in a degree program at TH Köln, you will need to apply for a student visa (Visum zu Studienzwecken). If you participate in a preparatory German course, please apply for a student application visa (Visum zur Studienvorbereitung). Guest scholars usually apply for a visa for research (Forschungsvisum).
Important notice: If you are planning to study or do research at TH Köln within the scope of a mobility scheme (e.g. Erasmus), you will have to follow the European directive EU2016/801. A valid residence permit from the EU country)* you are currently studying in/doing research is sufficient for your entry into Germany. This means that you do not need to apply for another visa. You just need to submit certain documents to TH Köln. The Department of International Affairs will contact you in time via e-mail informing you on the next steps to be taken.
)*Excluded to this rule are Denmark and Ireland.
Exemptions for certain countries
Citizens of certain countries may be able to enter Germany without a visa, but must then apply for a residence permit. Please check the Visa Navigator of the Federal Foreign Office to see if this applies to your country.
Staying for less than 90 days?
Should you intend to stay in Germany for less than 90 days – for instance for an on-site seminar, a summer school, a short internship or participation in a conference – only citizens of countries with a visa requirement need to obtain a Schengen Visa.
Where, when and how do I apply for a visa?
Please note:
If you enter Germany without a visa or with a Schengen Visa, you are required to leave the country after 90 days. Exemptions only apply to certain countries.
You apply for a visa at a German embassy or a German consulate in your home country. The website of the German Federal Foreign Office lists all contact details of the embassy or consulate responsible for you. It also provides information on applying for a visa and on the documents to be submitted.
We recommend that you make a visa appointment for study or research purposes as early as possible. In some countries the waiting time for an appointment is more than 6 months. You can also apply for an appointment without an admission letter or invitation letter.
To apply in person, you must then present your letter of admission or letter of invitation to TH Köln. This also applies to exchange students or guest scholars who need a visa.
Visa for studying or
study preparation

Visa for research
valid passport
valid passport
Proof of health insurance
Proof of health insurance
Proof of financing
Proof of financing (salary statement, scholarship)
Proof of previous academic achievements and language skills
Proof of the highest university degree obtained
if available: Letter of admission of the university
Letter of invitation of the university
For a visa for study preparation: a recognized university entrance qualification
For researchers: Hosting agreement between the university and the researcher
Information on the proof of financing for international students and applicants
In order to obtain a visa, you must prove that you can manage your studies financially. Currently, you have to prove 861 € per month, meaning 10.332 € for one year (as of 09/2020) . You can prove it in the form of proof of income from your parents, a security amount in a blocked account, a bank guarantee or a recognised scholarship. Ask the German embassy or consulate in your country about the conditions.
The Blocked Account
Many international students use a blocked account to prove their finances. The amount of money transferred will be blocked until entry. It is important to request the documents in good time. The completed forms as well as a a copy of your passport must be certified at the German mission in your country. After that the blocked account can be opened for a fee of 50 to 150 euros. After your arrival in Germany you will receive a debit card with which you can withdraw the money.
Currently, coracle, Deutsche Bank, and X-Patrio offer blocked accounts.
Please note:
It may take several weeks or months before you are issued a visa. We therefore recommend you apply for a visa as soon as possible.

TH Köln is unfortunately not able to influence or accelerate visa issuance processes of embassies, consulates or immigration offices.
Note on Renewal of Residence Permits
Please remember that you will have to prove your finances every time you renew your residence permit. This might mean that you will have to refill your blocked account for a second/third year.
What do I do after I arrive in Germany?
Within the first three months after entry to Germany, you must apply for a residence permit for study purposes or for research at the immigration office.