Advisory Services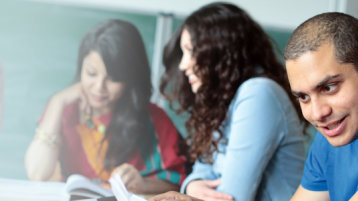 Studying and living in Germany also presents international students with special challenges. It is not always possible to solve conflicts yourself and therefore you need help or advice on a certain topic. We have put together information and offers from other information centres, that Cologne students can make use of, here for you.
AStA of TH Köln
Counselling for psycho-social difficulties
The Allgemeine Studierendenauschuss (AStA: General Student Committee) represents student interests in and outside the university and offers advice on the following topics:
Study with disability or illness
Examination and study questions
Legal questions
Jobs and Social Security
International students
Homosexuality
Psychosocial counselling
Study with Child
Financing and social counselling
Kölner Studierendenwerk (KSTW)
The Kölner Studierendenwerk is in charge of the halls of residence and cafeterias for all universities in Cologne. They also advise students with children, international students and students who need psychosocial counselling or help with financing.
The Department for Culture and International Affairs also organizes events such as forro dance evenings, language get-togethers, excursions and country evenings.
The Infopoint of the Kölner Studierendenwerk will provide you with information and immediate short-term advice on BAföG, housing facilities of the Kölner Studierendenwerk and more.
International Student Associations
International student associations are established by international students who pursue a common goal. These groups are enrolled on request in the matriculation register of the University of Cologne and are therefore effectively organs of this university, with all rights and duties. As a rule, they are led by international students, but German and students of other origins can also become members or even lead these groups.
Students of TH Köln are very welcome, but are not entitled to vote.
More information can be found here: International Student Associations
The umbrella organisation ISAC can be found on Facebook: ISAC Cologne
Religious Student Communities
If you have a religious interest and would like to get involved in a community, you can contact the Catholic or Protestant Student Community or the Islamic Student Association, for example. For all questions of faith and spiritual counseling, the staff are at your disposal.
There are also numerous international students associations that are happy to welcome you.
Protestant Student Community (esg)

Wiethasestr. 54, 50933 Köln

Tel.: +49 (0)221 / 9405-220

E-Mail: esg@esgkoeln.de

Catholic Student Community (KHG)

Berrenrather Str. 127, 50937 Köln

Tel.: +49 (0)221 / 4769-2

Islamic Student Association (IHV)

E-Mail: ihv-kontakt@uni-koeln.de

Association of Jewish Youth and Students Cologne (BjJSK)

E-Mail: bjjsk@gmx.net