After your Arrival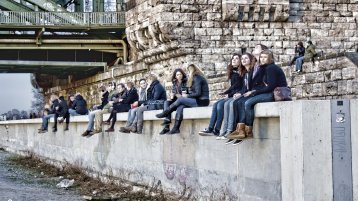 You have finally made it to Cologne – but what's next? Registering with the city? Opening up a bank account? Where and how do I do these things? Upon your arrival in Germany, there are quite a number of organizational steps to take and things to bear in mind. On this webpage, we have compiled all essential information and addresses for your first days in Cologne.
Registering your place of residence
Just Arrived / Getting Started
The guides for your first days in Germany and at TH Köln.
If you intend to stay in Germany for more than three months, you are required to register your new place of residence with the residents' registration office (Einwohnermeldeamt) in the city where your new place of residence is located. We ask you to complete this registration within a week after your arrival. Should you change places during your stay, please make sure to inform the registration office as well.
You are required to present the following documents when registering with the city:
If you do not have a fixed accommodation after your arrival and are staying in a hostel/hotel during the first few days, you can also register with the hotel's/hostel's address. You will need the signed confirmation (Wohnungsgeberbescheinigung) from the hotel/hostel.
You can also register with the City of Cologne without a permanent address. When registering, you must provide a postal address to which your post can be sent. For example, this could be a postal address of a friend or relative. In this case, you will need an informal letter from your friend or relative confirming that he*she will accept it for you.
If you are unable to carry out the registration yourself, you can authorize someone else to do so in your place. In this case, please also submit a registration form and an authorization form. You can obtain both forms from your residents' registration office.
As Cologne has a number of residents' registration offices, you are free to choose which one to visit. If you have taken up residency outside of Cologne, please visit the respective residents' registration office within your municipality. The addresses of the most centrally located registration offices in Cologne, Gummersbach, Hürth and Leverkusen are listed here:
Residence permit from the Immigration Office
Note on Renewal of Residence Permits
Please remember that you will have to prove your finances every time you renew your residence permit. This might mean that you will have to refill your blocked account for a second/third year.
All international students who do not hold an EU-citizenship and intend to stay in Germany for more than three months are required to obtain a residence permit at the immigration office upon arrival. Students must request this residence permit during the validity period of their entry visa. We recommend you do so immediately after your arrival. The residence permit is issued as a chip card and bears the official German title 'elektronischer Aufenthaltstitel (eAT)'. It is usually valid for one year and therefore needs to be renewed every year.
Please present the following documents to the immigration office when you request your residence permit:
valid passport – including your visa, if applicable
biometric passport photograph (35x45 mm)
certificate of registration with the residents' registration office
certificate of enrollment of TH Köln
certificate of health insurance
proof of financial resources
In some cases, the immigration office may require you to hand in other documents as well. If required, your immigration officer will inform you accordingly.
A list of the immigration offices in Cologne, Gummersbach, Hürth and Leverkusen can be found below. Please make sure to make an appointment in advance.
Bank account
We recommend that you open up a bank account with a German bank. This is particularly convenient for having your rent debited directly and for transferring your semester fee. It is generally possible for you to open up a bank account with any bank in your city of residence.
Before opening up an account, please consult your bank on which documents you will need to bring, as this tends to vary from one bank to another. Most banks usually require you to present the following documents:
valid passport
certificate of enrollment of TH Köln
certificate of registration with the city authorities