Incomings
Welcome to the Faculty of Automotive Systems and Production, we are glad to see that you are interested in our institution since international students enrich our academic environment and enable an intercultural and professional exchange.
A semester abroad requires organisational skills and personal dedication. But despite a good preparation and planning, international students might face some difficulties while filling in the Learning Agreement or creating their personal timetables since every university and even each faculty has its own organisational structure.
Therefore, we provide international students with useful information about the semester and exam periods as well as a Welcome Brochure including a Step-by-Step Guide for each degree program on how to create their Learning Agreement and personal timetable.
More general information for international students (accomodation, enrollment etc.) can be found on the website of the International Office.
Application requirements for international students
Since most of the lectures are in German and only very few are offered in English, exchange students need to prove a B1 level of German (Common European Framework of Reference for Languages) in order to be able to attend lectures in German and a B2 level for English if you want to attend classes in English.
If you are a degree-seeking student you will need to prove a more advanced German language proficiency. You can find further information here.
Welcome brochures for exchange students
International students at the Faculty of Automotive Systems and Production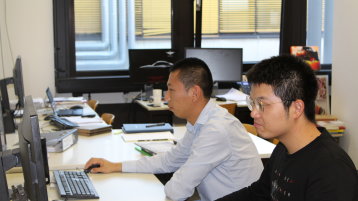 We are happy to welcome our international students at the Faculty of Automotive Systems and Production and interviewed some of them. We asked them for their reasons to come to Germany and to TH Köln as well as for their experiences here. We hope that these can provide an insight into the study and exchange programs at our institution and might serve as references for future exchange students.
Jintao Xiao and Yang Wang from China are writing their final thesis with Prof. Dr. Frank Herrmann as their mentor. Jintao Xiao is enrolled as a regular student in the Master´s degree program Automotive Engineering and Yang Wang in the double degree Bachelor´s program in Automotive Engineering. Gerardo Lopez und Camila Zamarripa from Mexico also participated in the double degree program. Gerardo just finished his internship. This semester we have a new student in the double degree program with Tec de Monterrey, his name is Hugo Cruz. He has successfully completed the B2 German course and is now applying for an internship in Germany. This year we also have four exchange students from the German-Jordanian University (GJU) in our degree program Logistics.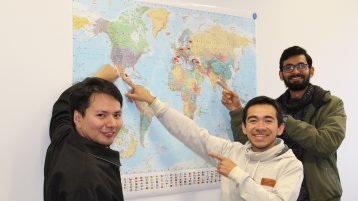 (Image: TH Köln)
The photo shows two of our international students from Mexico Luis Vergara Coronel and Diego Emilio Sánchez Juárez who have completed an exchange semester in the Bachelor´s degree program Production and Logistics at our Faculty. Ravindra Nalkande (right) from India and David Gyawali from Nepal ("Joint Master's Degree in Sustainable Automotive Engineering") are writing their Master´s thesis with Prof. Dr. Rainer Haas.