Information for Exchange Students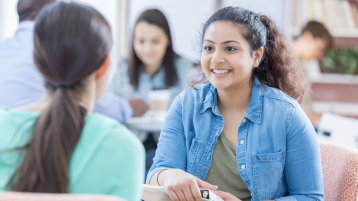 Two positions at TH Köln work together to coordinate your exchange semester: The International Office provides you with information on organizational and practical issues (e.g. enrollment) regarding your exchange. Departmental coordinators help you with the academic aspects of your semester abroad and with the preparation of your personal study plan.
Course Selection / Learning Agreement
Erasmus-Students must fill out a Learning Agreement "Before the Mobility" before they arrive at TH Köln. However, at that time not all courses, which will be available in the following semester, are already known. That is why this document is a preliminary document.
Students who are not part of the Erasmus program should also inform themselves about possible courses before their arrival. However, you do not have to create a Learning Agreement "Before the Mobility".
Erasmus- and Non-Erasmus-students
As soon as you have arrived at TH Köln, please discuss your courses and your schedule with your departmental coordinator. You have to create a Learning Agreement "During the Mobility". This must be uploaded to Mobility Online. From the start of the lectures you will have 4 weeks to choose your courses.
This document is the basis for your registration for the exams. Without the Learning Agreement "During the Mobility" a registration for the exams is not possible.
Important Information: Bachelor students are only allowed to take courses in Bachelor programs. Master students may choose courses from Bachelor and Master programs.
Further information about your faculty/institute and the contact details of your departmental coordinator can be found further down on this website. Further information about module catalogues can be found on the websites of the study programs.
German Courses
We recommend adding a German course into your Learning Agreement/time-table.
If you want to take part in a German course (these courses are for free) during your time at TH Köln, you need to take a placement test or you need to send a recently issued certificate stating your level to the Language Center prior to the placement test: sprachlernzentrum@th-koeln.de. You can earn ECTS for these courses.
The Academy of Continuing Education of TH Köln also offers courses with ECTS [Website only in German, some courses in English].
Transcript of Records
How do I get my Transcript of Records?
Usually you can print your Transcript of Records in German and English via the online examination and student service (PSSO). This is possible for up to 6 months after the end of your stay at TH Köln.
Please note that the Examination Office cannot complete your Transcript of Records until your departure. As a rule, professors have six weeks to correct the exams. Only then are the grades passed on to the Examination Office. If your grades do not appear in PSSO after this time, please contact the respective lecturer. Ask your lecturer to send your grade to the Examination Office.
How do I know if all my grades are already registered? You can check this for yourself via the online examination and student service (PSSO). You can only print out the Transcript of Records when all your grades are visible in PSSO. If you require a signed and sealed Transcript of Records for your home university, please contact the respective Office of Student and Examination Services by email. Please indicate your matriculation number and your address in your home country. Then the study office can send your grades abroad.
Exchange students of the Faculty of Cultural Sciences (KISD, Cologne Game Lab and Cologne Institute of Conservation Sciences) and exchange students of the Faculty of Information and Communication Studies (Institute for Translation and Multilingual Communication and Institute for Information Sciences) should contact their departmental coordinator for their Transcript of Records.
Grading System
The courses are graded according to the German grading system ("1" - "5", with "1" as the best and "5" as the worst grade). A course with a grade of 4 or better is considered passed.
There are also courses in which no grades are awarded, these are called ungraded lectures. On the Transcript of Records then states passed or failed.
If you still have to present grades at your home university so that the achievements at the TH Köln can be recognised, discuss your possibilities with the responsible lecturer of the course at the beginning of the semester.
Grading system
1.00 - 1.50 very good
1.51 - 2.50 good
2.51 - 3.50 satisfactory
3.51 - 4.00 sufficient
> 4.00 failed
Re-registration for the 2nd semester.
Should you wish to stay a whole year at TH Köln, you will have to re-register.
You must transfer the semester fee until January 10 (for the following summer semester) or July 10 (for the following winter semester).
You would like to extend your stay from one to two semesters?
This is possible if you follow these steps: First, please talk to your departmental coordinator at TH Köln and then with your home university. If both sides agree to an extension, inform the International Office of TH Köln immediately. Please also remember to answer the question in Mobility Online. Once you have completed all the steps, you can also re-register for the second semester.