Global & Freemover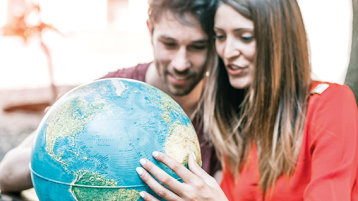 Your home university has a bilateral university agreement with TH Köln and you would like to study with us for one or two semesters? No problem, a lot of important information about the application procedure and process are compiled here.
In advance, you can find out on our world map whether your university cooperates with us and if so, which faculty at TH Köln is involved.
Nomination and application deadlines
Please contact the International Office of your home university to find out what opportunities you have to study at TH Köln as an exchange student.
Nomination deadlines:
April 15th for the winter semester and a whole academic year
October 15th for the summer semester
After you have been nominated by your home university, you will receive an email by TH Köln's Department of International Affairs with a link to a Mobility Online application. Our video tutorial below will explain in detail how to submit your application and which information to insert in the indidviual fields. Once registered, you can upload the required application documents in Mobility Online. If application documents are missing, you will be informed by e-mail. Your application will only be reviewed once you have uploaded everything. You can correct and complete your application until the following deadlines:
Application deadlines:
May 1st for the winter semester and a whole academic year
November 1st for the summer semester
Applications uploaded after these deadlines cannot be processed.
Your application documents will be reviewed after the application deadlines by the Department of International Affairs and the faculty coordinator of your selected faculty or institute. Only then can you download your admission documents for the winter semester starting in mid-June and for the summer semester starting in mid-December.
Mobility Online Video Tutorial
Controls
Selection criteria
The following criteria must be met in order to be admitted as an exchange student at TH Köln:
an existing cooperation agreement between your home university and TH Köln
a sufficient number of free places available in the study program for which you would like to be nominated
you must have sufficient language skills*)
*) Language skills
As a rule, you must provide proof of language skills in German or English at level B1 according to the Common European Framework of Reference for Languages (CEFR). Which language skills you need depends on the language of instruction of your host faculty. Further information can be found here.
Please note that many courses, especially in the engineering sciences at TH Köln, are offered in German.
Select your courses
Two offices work together to coordinate your study stay at TH Köln: The Department of International Affairs provides advice on organizational and practical issues (e.g. arrival, enrollment). The departmental coordinators work at the faculty or institute where you will be studying. They will help you with all academic questions concerning your study stay (e.g. timetable, learning agreement).
When choosing a course, please note that bachelor students may only choose courses from bachelor programs. Master students may select courses from bachelor and master programs.
Further information about your faculty/institute, contact details for your departmental coordinator and information about the module manuals can be found on the respective faculty pages. Please contact your departmental coordinator directly if you cannot find sufficient information.
We recommend that you include a German course in your timetable during the semester, as you can earn ECTS credits for this. The Academy of Continuing Education of TH Köln also offers courses on various topics and the opportunity to acquire ECTS points.
Create your Learning Agreement
The Learning Agreement is a document in which the selected courses at TH Köln and the courses for a possible recognition and credit transfer at your home university are recorded. Please discuss with your home university whether a Learning Agreement is mandatory for you.
At TH Köln, all learning agreements are created in Mobility Online. This important document is divided into the sections "Before the Mobility (BTM)", "During the Mobility (DTM)" and "After the Mobility (ATM)".
In Mobility Online you can answer the questions about the Learning Agreement with no, if your home university does not require a Learning Agreement from you.
In general, most course offerings are not yet scheduled and published before your departure. Therefore, the learning agreement "Before the Mobility (BTM)" is provisional.
After your arrival in Cologne you have the possibility to further define your learning agreement "During the Mobility (DTM)" with the concrete courses you are taking. You have four weeks time from the start of lectures to do this. The learning agreement "During the Mobility (DTM)" is the basis for your exam registration. Registration for the exam is not possible without a learning agreement "During the Mobility (DTM)". You will be notified about the dates for exam registration by e-mail in good time.
The learning agreement "After the Mobility (DTM)" is replaced in most faculties by the transcript of records. You can download and print the Transcript of Records yourself via PSSO up to six months after your departure.
Faculties and institutes that do not use PSSO will create the learning agreement "After the Mobility (ATM)" manually, which is equivalent to a transcript of records. You will be informed by your departmental coordinator which procedure applies to you.
Freemover
Your home university has no cooperation agreement with us? Under certain conditions, you also have the opportunity to spend a semester abroad at TH Köln.
Freemovers are exchange students who would like to study at TH Köln without a bilateral university agreement between TH Köln and their home university. As a rule, so-called freemovers can be enrolled at TH Köln for one or two semesters. During such a stay, freemovers cannot acquire a bachelor or master degree at TH Köln.
If you are interested in such a stay, please inform yourself in advance about our range of courses offered. Please note that the language of instruction in most courses of study is German. Therefore, it would be a great advantage if you already have language skills in German at the level of B2 according to the Common European Framework of Reference for Languages (CEFR).
Application deadlines:
May 1st for the winter semester and a whole academic year
November 1st for the summer semester
Send the following application documents in electronic format to: incomings-exchange@th-koeln.de
a letter of application in which you specify the desired period of stay and the desired faculty
an up-to-date CV
a current transcript of records
letter of motivation (why do you want to study here? what are your goals?)
a list of the courses you would like to attend at TH Köln
proof of your German or English language skills, which should be at least at level B2 in the European framework of reference (CEFR)
After the application deadline, the International Affairs Department will forward your application documents to the faculty you selected. The faculty alone makes the decision on your admission. The International Affairs Department will inform you about your acceptance or rejection by e-mail.
Exchange students with physical, mental or health-related conditions
TH Köln is happy to support you in planning and implementing your stay abroad. Please make sure that your home university informs us in time about your special needs so that we can actively support you.
Find out more about studying with special needs at TH Köln.