Language Courses for Students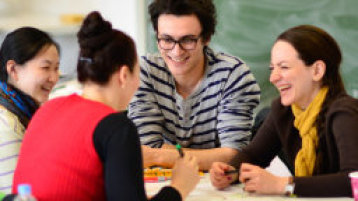 The Language Learning Center offers a wide range of courses in German as a Foreign Language, English, French, Italian and Spanish. All language modules and workshops are designed in accordance with the CEFR (Common European Framework of Reference for Languages). In addition, several modules in German Sign Language have been organized since the winter semester 2020/21.
How to apply for a language course - 3 steps
Step 1: Check participation requirements
Placement tests and language courses are open to officially enrolled students and exchange students of TH Köln. Cross-registered students, auditing students and staff of TH Köln may not apply for a course place. Faculty specific language modules are limited to students of the respective faculties.

Step 2: Take placement test or provide proof of language skills
Taking the placement test is a prerequisite for participating in courses at the Language Learning Center. Placement tests are offered at the beginning of each semester.

You do not have to take a placement test if you
- want to register for one of our courses A1 French, A1 Italian, A1 Spanish or A1.1 German as a foreign language and have no prior knowledge of these languages.
- have done a placement test at the Language Learning Center in the preceding semester.
- have successfully completed a language course at the Language Learning Center within the past two years.
- can submit a certificate as proof that you have passed a language examination on a specified CEFR-level within the past two years. A scan of this certificate has to be sent to sprachlernzentrum@th-koeln.de before the date of the first placement test. Please note that school-leaving certificates / high school diplomas such as the German 'Abitur' or 'Fachabitur' cannot be accepted as certification of a language level.

Step 3: Register for a language course
Registering for a language course is only possible online during the registration period. In order to sign up, please choose your desired course and fill in the online registration form. Please check the correct spelling of your name and your email address and pay attention to the use of capital letters. You may only register for those language modules that you were assigned to based on your placement test result.

The maximum number of participants is 25 per course. Once the number of registrations exceeds the maximum number of participants, places will be awarded in a lottery procedure. After the registration deadline has expired we will inform you via email if you have been assigned a place in the course. Moving up from the waiting list is only possible during the first two weeks of the semester.

There is no legal claim to admission even if attending courses at the Language Learning Center should be mandatory in a certain degree program.

Offered online in the summer semester 2021:
Language Courses for Students - Summer Semester 2021
(Please note that all dates are subject to change.) - Placement Test Registration: until Mar 28, 2021 - Placement Tests (online): Mar 08 - Mar 31, 2021 - Online Course Registration: Mar 15 - Apr 06, 21 - Course Duration: Apr 12 - Jul 23, 2021