Automotive Engineering (Master's program) – For Students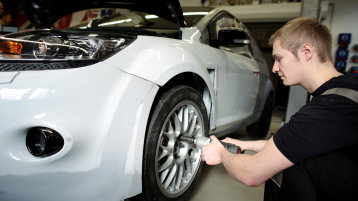 Information about the Master's program Automotive Engineering can be found on these websites, via ILIAS and through the announcements made in the two info boards in the central building on the 3rd floor (west).
Current information
The lectures of the summer semester 2022 are planned to take place on-site, if the development of the pandemic allows it. However, some lectures might still be carried out virtually.
In order to participate in online-teaching the media equipment is very important. You are probably already used to digital teaching and online communication in one way or another from the past weeks. You have probably also noticed that the following basic computer equipment is necessary:
You must be able to open, create, edit and send documents and files from current Microsoft Office applications. You must have the ability to participate in digital communication via e-mail and video connections. This includes in particular regular, free and up-to-date access to the Internet and the use of current standard operating systems. It is an advantage to have a notebook with electronic pen function, which is equipped with a current desktop operating system (preferably Microsoft Windows), for the preparation and follow-up of the study contents.
Current office applications, special software and virus protection programs can be obtained free of charge for the duration of your studies and for study purposes for the most part from the university (campus licenses for students).
All students receive an email address and a CampusID from TH Köln. Please only use the "smail" account for all correspondence with the university. With the CampusID you can participate in all digital services of TH Köln (and many other universities), the library(s) and many other scientific services worldwide. You must enter the university network via a VPN connection (virtual private network) in order to use the services.
The Campus IT is at your disposal for technical questions of any kind.
Due to the pandemic dynamics further changes may occur.
General current information and regulations of TH Köln for coping with the challenges posed by the coronavirus epidemic in teaching and studies can be found on the website of the university about Covid-19.