Automotive Engineering (Master's program) – Program Content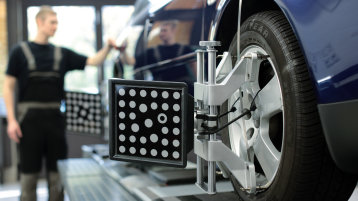 The Master of Science in Automotive Engineering builds on the knowledge and skills acquired in the Bachelor of Engineering in Automotive Engineering.
In the three-semester Master's program, the students deepen their expertise in the field of automotive engineering. In addition, content on new developments in vehicle manufacturing is taught.
Program structure
The curriculum of the program is structured in a total of four module blocks:
Advanced Automotive Engineering
Vehicle related content, which deepens the understanding of the vehicle as a whole and of vehicle assemblies.
Advanced Scientific Methods
Scientific methods and technical contents and their application to the field of vehicle construction are deepened.
General and Engineering Courses
Elective modules from the interface area of vehicle construction.
Scientific and Interdisciplinary Seminars
A project-based course from the areas "Leadership Application", "Scientific Engineering Project" and "Team based Engineering Project" is available.
For a complete overview of the modules and the structure of the program, please refer to the study plan.
Each module is examined separately. The examinations are usually held at the end of the semester or at the beginning of the next semester.
The program concludes with the Master thesis, in which an engineering topic from the field of automotive engineering is independently worked on.
Degree after successful completion
Master of Science (M. Sc.)