Automotive Engineering (Master's program)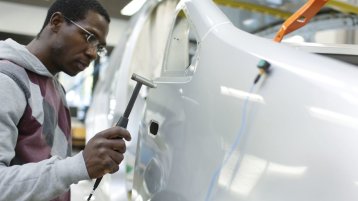 Currently, the conception, development and manufacturing of modern vehicles involves a myriad of aspects: Besides functional and cost-oriented component and aggregate design, factors such as vehicle safety, conservation of resources or changes in people's mobility patterns are gaining increasing importance.
The Master of Science in Automotive Engineering provides you with knowledge of the corresponding new technologies as well as technical and organizational processes and enables you to actively participate in and develop concepts and innovations in professional fields of vehicle and vehicle component development. Since automotive engineering is constantly changing and adapting to the requirements of users and the environment, the course contents of the degree program are also geared towards the ability to absorb and implement engineering innovations for automotive development throughout one's lifetime.
International or exchange students can find further information by clicking on the following link: Information for Incomings.
A list of the offered courses and their English translations can be downloaded here: Course catalog for M.Sc. Automotive Engineering.
At a Glance
| Category | Description |
| --- | --- |
| Program | Automotive Engineering |
| Degree | Master of Science (M.Sc.) |
| Type of program | Full-time program |
| Beginning of program | Summer semester or winter semester |
| Program duration | 3 semesters |
| Credits | 90 ECTS credits |
| Language of instruction | German |
| Campus | Deutz Campus |
| Restricted admission | Yes |
| Accreditation | internal accreditation based on system accredited standards, until Sep 30, 2025 |
The program comprises three semesters and concludes with the completion of the master thesis in the last of the three semesters. The program can be started either in the summer or in the winter semester. The contents of the master's program are based on the bachelor's program in Automotive Engineering or engineering programs with comparable specializations. In addition to the expansion of fundamental knowledge of methods of vehicle and vehicle component design and layout, opportunities for further specialization in specific areas of vehicle development are also offered. This enables you to build up your personal qualification profile. The close practical orientation of the lecturers to the automotive industry and the wide range of modern vehicle development laboratories ensure that you will be able to acquire excellent practical knowledge during your studies.