Web Science (Master's program)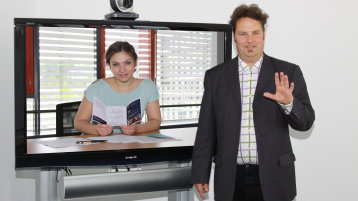 The five-semester Master's program in Web Science is offered parallel to professional employment and covers all important aspects which are relevant to decision-makers in web-related fields. The language of instruction is English. Classes are taught online two evenings per week. There are two onsite-weekends per semester which take place in Cologne. The tuition fees are €1.400 per semester.
Acquiring knowledge about the web online
The Master's program (M.Sc.) follows an interdisciplinary approach: Apart from imparting fundamental knowledge about web architecture and concepts, the program's focus is placed on a myriad of aspects, such as strategy and marketing, design as well as legal and security issues. In addition, students acquire knowledge in the fields of project management, leadership, consultation, analysis, coordination of web application systems, conception of internet system architecture and quality assurance.
At a Glance
Category
Description
Program

Web Science

Degree

Master of Science (M.Sc.)

Type of program

Program parallel to professional employment

Beginning of program

Summer semester and winter semester

Program duration

5 semesters

Credits

120 ECTS

Language of instruction

English

Campus

Gummersbach Campus

Restricted admission

No

Fees
€1.400 (per semester)
Semester fee reduced by the public transport fee (per semester) More
Additional Information

On-site classes take place on TH Köln's Südstadt Campus in Cologne. The responsible Office of Student Services is located on our Gummersbach Campus.
The Master's program in Web Science is taught entirely in English and is designed for international professionals who already hold a degree in a related field. Potential candidates should have at least 12 months professional experience in a web-related field and should aspire to fill executive positions on a corporate level. These candidates may hail from such diverse fields as computer science, design, business administration, law, social sciences or the humanities.
The Master's program provides them with an opportunity to expand and deepen their knowledge in order to hold leadership positions, be it in enterprises or as freelancers. The program was accredited by the AQAS accreditation agency in 2011.