Study preparation and admission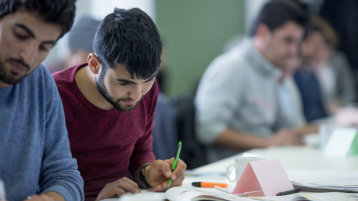 You have taken refuge in Germany? And you would like to begin your studies at TH Köln? Here you will find everything about the necessary requirements and the application procedure. In addition, there are special offers that make it easier for refugees to begin their studies.
If you are interested in studying at TH Köln there are two main prerequisites you need to fulfill in order to successfully apply.
Your secondary school or university diploma needs to qualify you to study in Germany. You can check this at www.anabin.kmk.org , a German database with information regarding university entrance qualifications. In case you have a university diploma, your university has to be accredited. If your diploma does not directly qualify you to attend a German university, you may be able to apply for the Cologne Prep Classif certain conditions are met.
If you are applying for a program taught in German, you must prove a minimum German level of C1 by the time of application. In case you apply with a C1 level certificate and are successfully admitted to the university, you will need to pass the DSH 2 exam (German language examination for university admission) or present a comparable certificate for enrolment. The DSH II level (or e. g. Test DaF with 16 points) is the level required for the course of study. in order to enroll. For programs taught in English you will need to provide prove of the respective English level that is required.
If you do not have sufficient German language skills, you can apply for the preparatory German course (prerequisite: German level B2). You can find more information about this on the websiteof the Language Learning Centre. Participation is free of charge for refugees.
If you have not yet reached the German level B2, we offeranother German course for refugees, which starts at level A2.
Admission for applicants from refugee backgrounds
Refugees
For a consultation please make an appointment: refugees@th-koeln.de !
If you have taken refuge in Germany and would like to study at TH Köln, the International Office will advise you on the application requirements and process. You are very welcome to make an appointment with us via the e-mail refugees@th-koeln.de. A personal consultation takes place only with an appointment.
Applicants have to apply through uni-assist. The respective deadlines for international applicants from non-EU countries in the individual courses of study apply. An overview of the application procedure in detail can be found here.
You will find all further information about the courses on offer as well as admission and enrolment requirements and application deadlines at the individual courses of study. Select a course of study and click on the subitem "Bewerbung" or "How to apply".
Case-by-case review
In case you have lost individual documents or certificates when you were forced to flee your home country, please contact the International Office for advice on your options.
If you are only missing a few documents, Uni-Assist has to check on a case-by-case review whether you have a valid university entrance qualification. In case of incomplete certificate documents, Uni-Assist will provide you with an additional form for self-assessment. It will then be decided on a case-by-case basis if and under what conditions it is possible for you to apply at TH Köln.
Uni-Assist Cost Exemption for Applicants with refugee background
TestAS
The free TestAS for refugees can be taken in German, English and Arabic.
The Uni-Assist application is free of charge for applicants with a refugee background if you apply for exemption from costs in addition to your application to Uni-Assist. To do so, you will need proof of your current residence status as well as a counselling certificate or proof of the result of a TestAS examination.
You will receive the application form after a consultation with the International Office and/or the Central Academic Advising Office. Please make an appointment for a consultation at the International Office first.
List of residence titles which qualify for participation in the free application process for refugees:
Persons with a BÜMA/Ankunftsnachweis proof of arrival (asylum application registration prior to submission of the application under §63a AsylG)
Asylum seekers (ongoing procedure – Aufenthaltsgestattung temporary residency permit under §55 AsylG)
Tolerated persons (temporary suspension of deportation – tolerated stay under §60a AufenthG)
Persons entitled to asylum under Art. 16a GG/1951 Refugee Convention (residency under §25 para. 1 AufenthG)
Recognised refugees under §3 AsylG (residency under §25 para. 2 sentence 1/1. AufenthG)
Persons entitled to subsidiary protection under §4 AsylG (residency under §25 para. 2 sentence 1/2. AufenthG)
Persons with protection against deportation under §60 para. 5 and 7 AufenthG (residency under §25 para.3 AufenthG)
Persons with residency status under §22 sentences 1 and 2, §23 para. 1, 2 and 4, §24 and §25 para. 5 AufenthG
Relatives (parents, children, spouses) of recognised refugees they followed, refugees under the 1951 Refugee Convention and persons entitled to subsidiary protection may have access to the free procedure if they can provide the residency permit of the principal person entitled (the first relative to enter the country) under §29 para. 2, §30, §31, §32, §34 para. 1 and 2 and §36 AufenthG
Persons with a "fictional certificate" under §81 para. 3 and 4 AufenthG