Study preparation and admission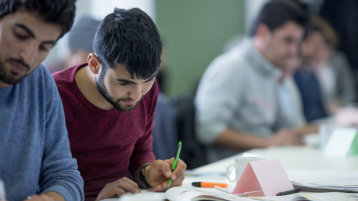 You have taken refuge in Germany would like to begin your studies at TH Köln? Information on the necessary requirements, the application procedure and special offers for refugees can be found here.
If you are interested in studying at TH Köln there are two main prerequisites you need to fulfill in order to successfully apply.
First:
Your school or university degree must entitle you to study in Germany - this means that your degree must be comparable to a German university entrance qualification (HZB). You can check this already in the database anabin. This database provides you with information on how your school leaving certificate (secondary school leaving certificate) is recognized in Germany. If you already have a degree from a university, you can also check in the database to see whether your university is recognized in Germany. Please note that the information in the Anabin database is not binding. Your certificates will not be properly verified until the official application process.
If your certificates are not sufficient for direct admission at a university in Germany, you might be able to apply for a Studienkolleg.
The German language examination for university admission,
DSH in short, is a language test that serves to prove the German language skills required for university studies in Germany.

DSH Exam
Secondly:
For a study program taught in German, you must prove at least the level of C1 in German at the time of application. If you are admitted to a study program with the German certificate C1, you must present a DSH-2 certificate or a comparable certificate, such as TestDaF with 16 points, before you begin your studies.
For an English-language course of study, you must prove that you have the appropriate knowledge of English.
Should you not have sufficient German language skills, you man apply for a preparatory German course at TH Köln. Two German courses are offered at different levels. You can apply for the "German course B1/B2" or for the "German course C1 with DSH exam" according to your German language skills. The places in the German courses are funded by the Ministry of Culture and Science of the State of North Rhine-Westphalia and TH Köln as part of the "NRWege ins Studium" programme for international applicants with and without refugee backgrounds and are supported by the DAAD. Therefore there are no participation fees for the German courses.
Admission for refugee applicants
The first step to successfully apply for a degree program is to visit the Department of International Affairs during our office hours.
In most cases, you will have to apply through the application service uni-assist for the German courses of the Language Center as well as for your desired study programs. The application deadlines for international applicants from non-EU countries in the individual degree programmes apply. How do I apply correctly? The application procedure in detail.
You can find further information on the study programs offered by TH Köln, the requirements and application deadlines under the individual study programs's links. Select your desired degree programme and then click on "Application".
Please note:
If, due to your flight, you no longer have any proof of your school certificates and/or university certificates, please contact the Department of International Affairs for advice on your options.
If you are missing only certain documents, uni-assist must check in each individual case whether a valid university entrance qualification (HZB) exists. In this case uni-assist will provide you with an additional form for self-disclosure. We will then decide whether and under what conditions a course of study is still possible for you.