End-Of-Study Scholarship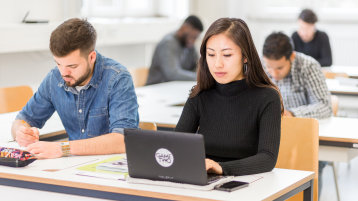 Particularly qualified international students can apply for an end-of-study scholarship if they are already at the end of their studies. The Department of International Affairs awards these scholarships through funding by the German Academic Exchange Service (DAAD) and the Federal Foreign Office.
The main goal of the end-of-study scholarship is to provide financial support to international students during the preparation of their final thesis, so that they can fully concentrate on their final degree. International students who have achieved very good or good grades and who are in the final phase of their studies are eligible to apply.
Who can apply for an end-of-study scholarship?
We accept applications from students:
foreign nationals with foreign educational qualifications,
who are enrolled at TH Köln with the aim to obtain a university degree,
who are in financial need,
who are in the final stage of their degree program and and who, based on their previously achieved grades, are likely to graduate within a maximum of two semesters,
who live in Germany during the time of writing their final thesis.
We cannot accept applications from students:
who are enrolled as exchange students or students of German language courses,
who are enrolled in one of the following study programs: Applied Media Education - The Use of New Media and Games in Youth Work, Behavioral Ethics, Economics and Psychology, Gender & Queer Studies, Insurance Law, Insurance Management, Library and Information Sciences, Taxation, Web Science.
who (also) have the German nationality, or have obtained their higher education entrance qualification in Germany,
who are currently recipients of any full or partial scholarship from DAAD or other organizations,
who are studying or doing an internship abroad during the scholarship period.
Please note that your application for the end-of-study scholarship can only be considered if you have not yet completed your thesis. You can prove this by registering your thesis with the Examination Office.
Deadlines
The application deadline of each year is:
15 January,
15 May and
15 August.
The earliest start of the funding is
01 February,
01 June and
01 September.
Value and duration of the end-of-study scholarship
up to 400 € per month; (single parent students: up to 861 €)
up to 6 months (the scholarship cannot be extended)
You can apply for both Bachelor's and Master's theses.
The end-of-study scholarship starts at the earliest in the month of your official registration of your thesis or with a notice from your supervisor about the official start and end date of your thesis. Please note: due to the current situation, it is possible to receive the scholarship even before the registration of the thesis. However, you must prove, based on the credits you have already earned, that your graduation can be expected within the next 12 months.
The end-of-study scholarship ends no later than the month of the last exam / colloquium or the submission of the final thesis.
Application Documents for the end-of-study scholarship
Application Documents
Please use the application form and recommendation letter for your application. Please save the forms and fill them out on your computer.
Please submit the following documents to the International Office at your campus or via e-mail:
completed and signed application form,
Letter of Motivation: please also explain why you have a special need!
Copy of your residence permit,
current certificate of enrollment at TH Köln,
current transcript of records with indication of the average grade,
list of not completed modules/exams with estimated completion date,
CV,
recommendation letter from a professor/supervisor,
Copy of your passport with your personal details,
Evidence of current finances (bank statements of the last three months. In addition, copy of working or scholarship contracts, if applicable),
Copy of the thesis registration from the examination office, if available,
Proof of social commitment, if available.
Please contact Ms. Ohlsen at the Department of International Affairs, if you have any questions about the end-of-study scholarship or wish to make an application. You can send your application documents with a maximum of two PDF-files by e-mail.
Please submit one set of the required application documents to:
TH Köln
Department of International Affairs
Lis Ohlsen
E-mail: lis.ohlsen@th-koeln.de
Tel: +49 221 8275 3826
Selection Process
Please understand that we can only consider complete applications. Students of the Bachelor and Master programs taught in English may submit their application documents in English. We kindly ask all other students to apply in German.
The selection committee consists of representatives of the Department of International Affairs of TH Köln. A decision will be made on the basis of the application documents. Selection criteria inlcude: the probability of graduating soon, financial need as well as good academic performance.
As the number of end-of-study scholarships is limited, there is no guarantee for receiving a scholarship.
Sponsored by
the German Academic Exchange Service
with funding of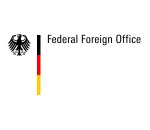 the German Federal Foreign Office