Production and Logistics (Bachelor's program) – Program Content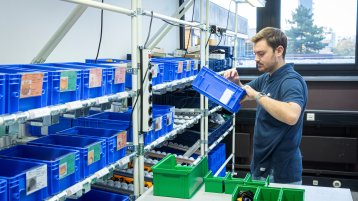 How does the Bachelor's program Production and Logistics work?
The full-time program has a standard program duration of seven semesters. It is divided into three sections.
Obligatory modules (1st - 3rd semester)
In the obligatory modules of the first three semesters you will acquire the scientific, technical, organizational and business fundamentals. In addition to modules such as Mathematics, Technical Mechanics, Control Engineering and Design, the study plan also includes Business Organization, Controlling and Fundamentals of Logistics.
Internship semester (4th semester)
The internship semester in the 4th semester with a duration of at least 22 weeks gives you an insight into the work of production or logistics companies. You will have the possibility to apply the theoretical knowledge you have acquired. This will give you a first insight into the diverse tasks of production and logistics engineers.
Electives (5th - 7th semester)
In the last three semesters you will specialize in Production Technology and Logistics.
Required electives in Production Engineering and Logistics
Production Engineering deepens the knowledge of production processes and procedures with electives such as Automation and Manufacturing Systems. Logistics focuses on the flows of material and goods from suppliers to the customer (supply chain) with modules such as Procurement Logistics and Logistics IT.
Electives (free of choice)
In addition to the required electives, you can freely choose a total of 5 further modules from a wide range of lectures according to your personal interests.
Degree after successful completion
Bachelor of Engineering (B.Eng.) / Industrial Engineer
For international students