Production and Logistics (Bachelor's program) – Career Options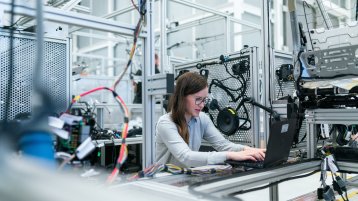 The degree program Production and Logistics is very versatile, as well as its various fields of application. Wherever economic and technical skills are required, industrial engineers are employed for their capability of not only focusing on their own department, but considering the holistic context.
Industrial engineers understand the work process of designers and production planners as well as cost management, marketing or sales. They work in medium-sized as well as in global companies in various industries. Preferred fields of activity are in the production and logistics area. The number of industrial engineers has increased significantly in recent years, especially in the service sector. An increasing number of consulting companies employ industrial engineers when it comes to improving the production processes in the company of the customer.
With a Bachelor of Engineering in Production and Logistics (Industrial Engineering) you will work primarily in the following operational areas:
planning operation, production planning and control
logistics, materials management, management / corporate governance
quality management, quality assurance
purchasing and procurement
marketing and sales
product and process development
controlling
In addition, possible activities may also be found in the following areas:
initial and continuing education
research and development