Production and Logistics (Bachelor's program)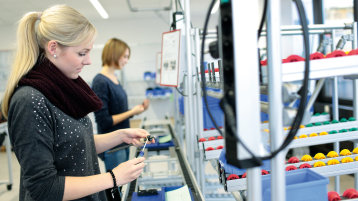 Planning production plants for the manufacturing of products, controlling the flow of materials through the company, managing employees, solving manufacturing problems under economic and ecological aspects - these are the tasks of our industrial engineers in production and logistics.
Due to their comprehensive qualifications, industrial engineers trained in Germany are at the top of the job ladder: more than two thirds work in management positions.
As a Bachelor of Engineering in Production and Logistics, you will devote yourself to several disciplines simultaneously - mechanical engineering, production, logistics and business administration.
At a Glance
| Category | Description |
| --- | --- |
| Program | Production and Logistics |
| Degree | Bachelor of Engineering (B.Eng.) |
| Type of program | Full-time program |
| Beginning of program | Winter semester |
| Program duration | 7 semesters |
| Credits | 210 ECTS credits |
| Language of instruction | German |
| Campus | Deutz Campus |
| Restricted admission | No |
| Accreditation | Internal accreditation based on institutional accreditation standards, until Sep 30, 2026 |
In the obligatory modules of the first three semesters you will learn the relevant technical and business management basics. After an internship semester, you will specialize in the fields of production technology and logistics in order to sharpen your personal profile according to your personal preferences.
The Cologne region as a major logistics and production location offers a wide range of opportunities to gain broad practical experience. In addition to internships, the companies offer project or bachelor's theses that allow you to apply your knowledge in a solution-oriented manner.