Automotive Engineering (Bachelor's program)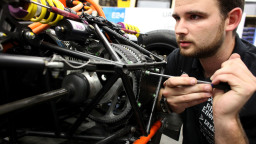 The Bachelor's program in Automotive Engineering places its focus on the entire automobile: Students gain extensive knowledge and skills relating to all important components and aspects of modern vehicles and learn about future trends of the automobile industry.
Equipped for the modern professional world
From the very beginning, many of the teaching contents are realized in project work and are developed in a team outside of large lecture halls: As much hands-on as possible instead of just dry theory.
The degree program provides a broad theoretical basis of fundamental engineering and vehicle technology knowledge coupled with a strong practical focus. This enables our graduates to independently apply and further develop scientific knowledge and methods in the field of automotive engineering in a practice-oriented manner.
Thinking outside the box
The eMotorsports Cologne Team and the FH Köln Motorsport e.V. offer opportunities to get actively involved across faculties and gain valuable experience outside of the university. The internship semester scheduled for the 6th semester provides insights into the everyday work of an engineer. Semesters abroad at one of the partner universities broaden the horizon and promote international exchange.
International degree-seeking or exchange students can find further information on the website of the International Office of the Faculty by clicking on the following link: Information for Incomings.
A list of the offered courses and their English translations can be downloaded here: Course catalog for B.Eng. Automotive Engineering.
At a Glance
| Category | Description |
| --- | --- |
| Program | Automotive Engineering |
| Degree | Bachelor of Engineering (B.Eng.) |
| Type of program | Full-time program |
| Beginning of program | Winter semester |
| Program duration | 7 semesters (including internship semester) |
| Credits | 210 ECTS credits |
| Language of instruction | German |
| Campus | Deutz Campus |
| Restricted admission | No |
| Accreditation | internal accreditation based on system accredited standards, until Sep 30, 2022 |
Start your studies well-informed
How can apply as an international degree-seeking student? Which level of German do I need? At what time do the lectures begin?
You can find all important information under For Students