Automotive Engineering (Bachelor) – Program Content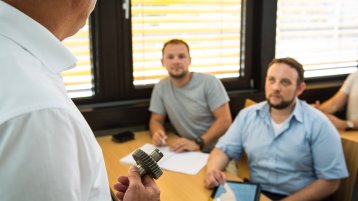 From aerodynamics to virtual product development: automotive engineering is more than just cars and engines.
The degree program is organized in modules.

The first three semesters:
The first three semesters of the degree program primarily consist of the theoretical fundamentals which are indispensable for any engineering degree, i.e. Mathematics, Physics, Mechanics, Design etc.

The practical engineering semester:
In this semester you can already gain first experiences of the activities in an engineering profession.
With its duration of 22 weeks, the practical engineering semester is intended to give students a first practical insight into the work of and in companies in the field of automotive engineering and provide orientation for their further development in their studies and career. By taking on practical engineering tasks, the theoretical knowledge and methods acquired during the course of studies can be put into practice and a first insight into the diverse field of the work of automotive engineers can be gained. This provides an initial orientation for the individual student's inclination on which to focus on the further course of their studies and their desired profession.
The last three semesters:
In the last three semesters students are taught the specific automotive engineering content, and can specialize according to their own interests choosing from a wide range of optional modules.
The fourth semester is a practical semester in which the students complete an internship in a company. This can also be undertaken abroad, allowing them to gain work experience in a different country and improve their foreign language skills without any loss of time.
In addition, they have the opportunity to spend a semester abroad or to participate in our double degree program with Mexico. Further information about these possibilities can be found on the faculty's website under International Affairs. The program ends with the Bachelor thesis in the 7th semester, which can also be written abroad.
Project-based learning throughout the course of studies
Project-based learning is more fun and more memorable than frontal teaching. Everyone knows this from their school years. Apart from technical skills, social skills are acquired along the way. This process already starts in the first semester with a project called "StartIng".

Automotive engineering is much more ...
... than cars and engines.
A large number of elective modules give students the opportunity of individual specialization and variation. The currently offered electives can be found in the module handbook.