Incomings
We would like to welcome you to the Institute for Insurance Studies at TH Köln and are pleased that you are interested in studying at our institute. As an international student, you will enrich our institute and enable us to exchange ideas and experiences on an intercultural and professional level.
The International Coordinator of our institute will be happy to advise you on all questions regarding application deadlines, semester times and examination dates as well as the preparation of the Learning Agreement and your personal timetable (email: torsten.oletzky@th-koeln.de).
More general information for international students can be found below or on the website of the Department of International Affairs.
You will find an overview of all courses offered by our institute under the following links: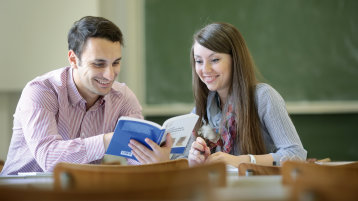 Course Catalogue
In the course catalogue you will find all lectures offered in this semester with time and room number. Since the Bachelor's program in Insurance always begins in the winter semester, the odd semesters (1,3,5) are relevant in the winter semester and the even semesters (2,4,6) in the summer semester. After the start of the semester, changes to the timetable and cancellations of lectures are announced for all students on the universities communication platform ILIAS.
The courses listed in the general course catalogue are generally held in German and require language comprehension at level B1.
In addition, the Institute of Insurance Studies offers a number of courses in English in cooperation with the Schmalenbach Institute of Economic Sciences in the respective winter semester:
Insurance specific curriculum
Liability Insurance
Digital Innovation of the Insurance Industry
Introduction to Actuarial Science
Reinsurance Seminar
Seminar on Management Theory
...
International Business Studies curriculum
Managerial Microeconomics
International Corporate Finance
Introduction to International Business Law
International Management Ethics
Multicultural Entrepreneurship
…