Vehicle Development (Bachelor's program)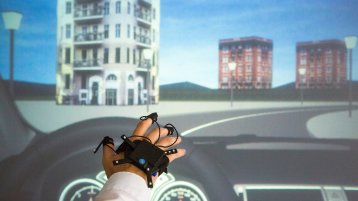 The automotive industry is experiencing an incredible transformation. Sustainable, ecologically and economically sensible mobility solutions are currently being developed and the use of digital solutions is on the rise.



Well-equipped for the modern professional world
The degree program Vehicle Development provides application-oriented training in a variety of practical courses and group-oriented projects with the content necessary to deal proficiently with the major challenges in the aspired professional field.
The aim is to develop an overall understanding of the technical system of the automobile and, at the same time, to acquire the necessary depth in sub-areas that is required in modern vehicle construction. The program provides the tools and methods needed to create competitive, innovative and sustainable vehicles. Especially against the background of the enormous speed of change in the target industry, a project-centered and competence-based degree program is important in order to meet the professional requirements.
Thinking outside the box
The eMotorsports Cologne Team and the FH Köln Motorsport e.V. offer opportunities to get involved across faculties and gain valuable experience beyond the university. The internship semester scheduled in the 6th semester provides insights into the everyday work of an engineer. Semesters abroad at one of the partner universities broaden horizons and promote international exchange.
At a Glance
| Category | Description |
| --- | --- |
| Program | Vehicle Development |
| Degree | Bachelor of Engineering (B.Eng.) |
| Type of program | Full-time program |
| Beginning of program | Winter semester |
| Program duration | 7 semesters (incl. 1 internship semester) |
| Credits | 210 ECTS credits |
| Language of instruction | German |
| Campus | Deutz Campus |
| Specializations | Vehicle Development |
| Restricted admission | No |
| Accreditation | Internal accreditation based on institutional accreditation standards, until Sep 30, 2028 |
Start your studies well-informed
When do the orientation events take place?
When do the lectures start?
All important information can be found at