Logistics (Bachelor's program)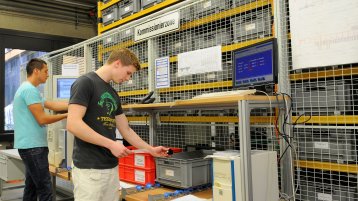 Logistics involves the planning, control, optimization and execution of material, information and cash flows in systems, networks and processes. It also includes value-added services related to logistics, in addition to the transport, handling and storage of goods and merchandise.
The degree program is offered at the Deutz campus by the Faculty of Automotive Systems and Production and the Faculty of Economics and Law.
At a Glance
| Category | Description |
| --- | --- |
| Program | Logistics |
| Degree | Bachelor of Science (B.Sc.) |
| Type of program | Full-time program |
| Beginning of program | Winter semester |
| Program duration | 7 semesters |
| Credits | 210 ECTS credits |
| Language of instruction | German |
| Campus | Deutz Campus and Südstadt Campus |
| Restricted admission | Yes |
| Accreditation | internal accreditation based on system accredited standards, until Sep 30, 2025 |
Starting with the fundamentals of general business administration and economics as well as selected soft skills such as creativity, moderation and presentation techniques, the program deepens functions, phases and information technologies in logistics by means of current and exciting challenges to logistics management.
The region of Cologne offers students of Logistics a broad field of study and activity. Cologne is a logistics hub with excellent connections to road, rail, air and waterways. Globally active industrial, trade and service companies offer a wide range of opportunities for internships as well as a career start in the region and worldwide. The newly formed degree program at Germany's largest university of applied sciences offers a top-notch, excellently structured education with a team of lecturers who have proven themselves in practice.
Holistically oriented: cross-faculty, service, cost and process oriented
Logistics deals with the information, goods and value flows of the entire supply chain: the supply chain within and between companies. This "logistics chain" begins with the customer and covers numerous trade and production including the extraction of raw materials. Logistical processes must be efficiently planned, managed and controlled. The degree program incorporates the therefore necessary instruments in the phases of distribution, production, procurement and disposal logistics. Students learn about functions such as transport, handling and storage, order processing, inventory management and packaging. In addition, they learn important details about specific applications in the various institutions of industry, trade and services.
The degree program conveys overall competence on a broad theoretical and at the same time practice-oriented basis. In addition, the students' communication and cooperation skills are promoted, enabling them to develop a team-oriented and responsible working style.