Logistics (Bachelor's program) – For Partners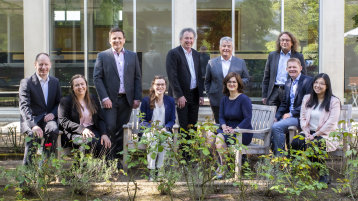 With the help of the practice-oriented teaching and presentations, students of the degree program Logistics are enabled to transfer current knowledge from the world of logistics to the "corporate world". They learn to react flexibly and appropriately to current economic problems and to solve them.
In order to integrate theoretical and practical content, we are constantly seeking contact with companies and associations. If you are interested in working with us, we would be pleased to hear from you.

Opportunities for cooperation in the field of logistics at a glance:
guest lectures/case studies
We are constantly looking for interesting guest lectures.
excursions
The logistics team strives to offer excursions every semester.
practical projects
Students work on a practice-oriented task in a team.
Bachelor theses
At the end of their studies, students take a written examination, which preferably includes a practical topic.
internship semester
The internship semester is compulsory for every student with a duration of 22 weeks.
student jobs
We will gladly forward your offers to our students.
theme evenings/symposia/conferences
We are looking forward to your suggestions and your help with any events.
research projects
We are happy to cooperate in order to develop or deepen scientific knowledge.