Integrated Water Resources Management (Master's program)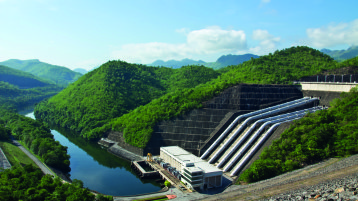 Current global trends such as population and economic growth as well as climate change exert increasing pressure on water resources worldwide. These ressources are the basis for food production, urban and industrial water supplies and hydropower. Experts are needed who understand that multiple problems of water resources management can only be addressed through a holistic approach.
The profile of the Master's program is application-oriented. The aim is, besides providing the participants with an overview on the water sector in general, to educate experts in the field of Integrated Water Resources Management. This requires a diversification of their knowledge and leads to the capability of cross-linked thinking. The answer to complex environmental and water related problems requires economic and managerial competencies more than classical technical knowledge.
The consolidation of different disciplines has not only a methodological dimension but a cultural and a human one, because interdisciplinary team work requires knowledge sharing and effective communication.

Based on this, the study objectives are:
Broadening and enhancing expert knowledge
Providing key qualifications required for international cooperation projects
Fostering the link between different areas of specialization
Enhancing oral and written communication considering different stakeholder groups regarding target groups
Broaden methodological and scientific skills, bridging theoretical knowledge and practical requirements
Practicing own research on interdisciplinary and inter-sectorial approaches to Integrated Water Resources Management
The Master Program is offered in two lines
Single Degree Master Program IWRM International
The two year program is held in Germany. During the third semester of study students have the opportunity to study abroad at international partner universities (Cooperation partners of TH Köln).
Joint Exchange Master Program IWRM with focus on the Middle East and Northern Africa Region (IWRM Mena) (in cooperation with German Jordanian University)
The two years joint exchange program is offered in Jordan and Germany with English as language of instruction. Students will study the first two semesters in Germany and then go to Jordan for their third semester. The fourth semester is dedicated to the Master's thesis with focus on the Mena region.
At a Glance
| Category | Description |
| --- | --- |
| Program | Integrated Water Resources Management |
| Degree | Master of Science (M.Sc.) |
| Type of program | Full-time program |
| Beginning of program | Winter semester |
| Program duration | 4 semesters |
| Language of instruction | English |
| Campus | Deutz Campus |
| Restricted admission | No |
| Accreditation | Internal accreditation based on institutional accreditation standards, until Sep 30, 2028 |
Integrated Water Resources Management
IWRM MSc Joint Exchange Program
Focus on the Middle East and Northern Africa region (MENA). A cooperation between German Jordanian University (GJU) and Technische Hochschule Köln.
First Semester Information
For all those starting a Master Program at the ITT, we look forward to welcoming you! Here is a link to helpful information for your semester start!