International Business (Bachelor's program)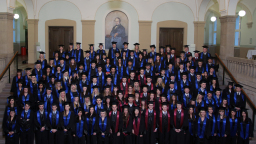 Our Bachelor's program in International Business prepares students to meet global challenges. They learn how to solve complex problems on an international level in an innovative and proficient manner and are able to implement adequate and sustainable solutions.
Globalization has left its mark on internationally operating companies. To tackle the challenges that lie ahead, they search for young, well-qualified and internationally experienced professionals.This could be you!
The six semester Bachelor's program in International Business (B.Sc.) aims at educating young business professionals who meet current employer demands. Students gain basic knowledge in the fields of economics and business administration with a particular focus on relevant international aspects. The semester abroad is an excellent opportunity for our students to broaden their horizon and gather relevant international experience. At the same time it is an opportunity to demonstrate that they have the personal and social skills required to work effectively and efficiently in international settings.
For more information please continue reading: International Business (Bachelor) – Program Content
At a Glance
Category
Description
Program

International Business

Degree

Bachelor of Science (B.Sc.)

Type of program

Full-time program

Beginning of program

Winter semester

Program duration
6 semesters
With internship: 7 semesters
Credits
180 ECTS credits
With internship: 210 ECTS credits
Language of instruction

German and English

Campus

Südstadt Campus

Restricted admission

Yes

Accreditation

program accredited until Sep 30, 2025