Integrated Design (Master's program) – Program Content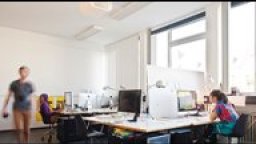 The Master's program in Integrated Design at Köln International School of Design goes beyond the traditional boundaries of design and combines interdisciplinary experiments with disciplinary excellence.

Studying at KISD: Integrative, Interdisciplinary and International
The Köln International School of Design – KISD – an institute of TH Köln (University of Applied Sciences), is part of one of the largest public universities in Europe. KISD offers its students a project-oriented and student-centered learning and research environment allowing students a high degree of flexibility and independence.
Integrative Studies. Since its foundation KISD has relied on a structure that consistently overcomes the traditional design boundaries and combines different design approaches, practices and techniques. Our master degree programme Integrated Design systematically integrates different design-specific perspectives both in theory and in practice.
Interdisciplinary Studies. Design is an integral part of our everyday culture and culture of knowledge and is thus incorporated into complex structures. In accordance with our holistic approach, design can only be regarded and developed by means of different scientific and design-related disciplines. The variety of our master degree programme's theories and techniques provides a basis for elaborating individual approaches to research, development and design. Therefore, KISD systematically expands its interdisciplinary interfaces not only at the Cologne University of Applied Sciences but within its international network of partner universities and economic cooperation partners as well.
International Studies. The KISD Master's program pursues a strategy of internationalization covering projects with international partners and guests as well as crosscultural and transcultural phenomena and processes. With a high percentage of international students at KISD we put great emphasis on the promotion of cross-cultural competences.
Within the master degree programme KISD cooperates with international partner universities inside and outside Europe and offers the possibility to acquire a double degree after successfully completing an additional semester.
Program and Course Structure
The Master's program comprises three stages of study: integrated, interdisciplinary and elaborated. Students will be assisted at all stages by several university professors and will be supported intensively by two supervisors during the second and third semester when determining an individual project.
Stage of Study: Integrated. In the first semester the students deal intensively with the term integrative design and independently carry out design-related design and development work. After intensive research they develop their own questions in projects and studios, work on prototypes and models in the KISDlabs and develop their own perspectives in the fields of theory, action and design - Integrated Design. Simultaneously, students explore the possibilities of professionalization while getting to know and to evaluate the range of professional prospects in design within the Professional Opportunities.
Stage of Study: Interdisciplinary. In the second semester the students work out individual research, development and design approaches and incorporate them into a reasonable interdisciplinary context in accordance with the subject chosen by them. The students develop their individual approaches by means of design-specific plotting tools; e.g. drawing, texting, modelling or mapping, and then relate them to other disciplines. In this context, social, cultural and global dimensions of design are discussed with partners from industry, culture, education, and research. Enriched by their own teaching experience the semester finishes with the depiction of a defined subject approach and a draft presentation for further work.
Stage of Study: Elaborated. The third semester is dedicated to self-dependent elaboration of the master's thesis. The subjects of the second semester are further developed and, at least in two of the KISD areas of expertise, related systematically and interdisciplinarily. Part of the work includes a detailed and professional documentation, a presentation or exhibition within the university, and a colloquium.
Relate & Reflect During the Course of Study. All stages of study will be accompanied by a mentoring program and a colloquium, giving the students the chance to discuss their development and objectives among each other. In this context, peer learning is regarded as an important aspect of the studies. The colloquium includes personal reflection and provides an open culture of discussion and feedback with participants such as the KISD professors and lecturers, students and external partners. Therefore, mentoring and colloquiums are ground-breaking elements within the formation of a comprehensive spectrum of expertise.
Program and Course Structure - Schedule