Integrated Design (Master's program)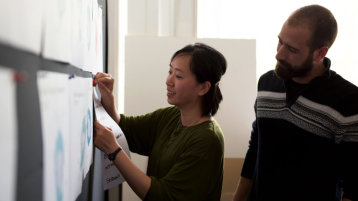 The Master' program in Integrated Design at Köln International School of Design goes beyond the traditional boundaries of design and combines interdisciplinary experiments with disciplinary excellence.


Interdisciplinary Studies in Design
The three-semester Master's program continues the integrative, interdisciplinary and international approach of the BA study course Integrated Design and consistently focuses on the further development of individual interdisciplinary questions and problems. Thanks to a program based on research, development, and design, students will be qualified to work independently and scientifically on well-founded projects, take management positions in design teams within dynamically developing design professions, or even continue their academic career.
The Master's program in Integrated Design aims at developing and expanding disciplinary excellence in design. This means being competent enough to position oneself with a clear design profile in different disciplines, professions and knowledge cultures. This capability is promoted by KISD by developing interdisciplinary-shaped subjects which are jointly represented by several areas of expertise and further developed in collaboration with both regional and international partners.
With regard to subjects such as "Urban Transformations" students pose their own questions and problems and combine them with theories, methods and techniques from culture sciences, social sciences, economics, or engineering. Consequently, the students combine interdisciplinary knowledge with design-specific competences and methods in their research-oriented, design-oriented or development-oriented master's theses.
Double Degree With Tongji University Shanghai/China
Within the subject "Urban Transformations", outstanding students have the possibility to acquire a double degree after successfully completing an additional semester at the College of Design and Innovation in Shanghai, China – the Master of Design of Tongji University. Further partners and subjects are in the planning stage and will follow.
At a Glance
Category
Description
Program

Integrated Design

Degree

Master of Arts (M.A.)

Type of program

Full-time program

Beginning of program

Summer semester

Program duration

3 semesters

Credits

90 ECTS

Language of instruction

English

Campus

Südstadt Campus

Restricted admission

No

Please note
Aptitude test required
Application deadline: October 1