Computer Science (Master's program)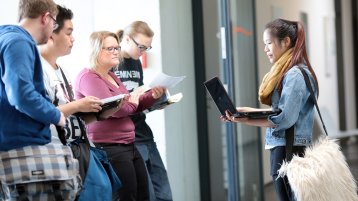 Students of the four-semester Master's program in Computer Science can choose between two specializations:
- Software Engineering - Development of Software Systems (in German)
- Information Systems - Corporate IT-applications (in English)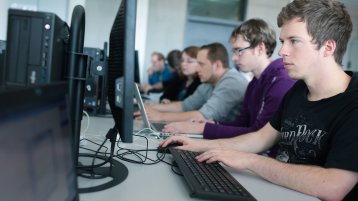 Up to date: Software Development and Corporate IT Applications
The four-semester Master's program in Computer Science has been designed to meet current industry demands. Students can choose between two specializations: Software Engineering (in German) and Information Systems (in English). The newly designed program has an international focus and pursues a project-oriented approach.
Students opting for the specialization in "Software Engineering" will receive instruction in user- and architecture-centered software development, taking human thinking and behavior into account. Additional information on this specialization is available in German.
For the specializiation in Information Systems the language of instruction is mainly English with some modules being offered in German. Sufficient English language skills are essential. The program prepares students to fill leadership positions which require extensive specialized knowledge in the fields of design and management in the IT sector.
At a Glance
Category
Description
Program
Informatik / Computer Science
Degree
Master of Science (M.Sc.)
Type of program
Full-time program
Beginning of program
Summer and winter semester
The program has been discontinued. Applications for admission in the first semester will no longer be accepted.
Program duration
4 semesters
Credits
120 ECTS credits
Language of instruction
Information Systems: English
Software Engineering: German
Campus
Gummersbach Campus
Restricted admission
No
Accreditation
internal accreditation based on system accredited standards, until Sep 30, 2021