Computer Science (Master's program) - Program Content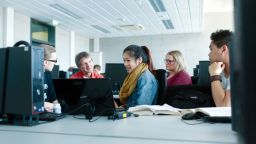 Choose your specialization: Software development or development of corporate IT systems.




The program of consists of four equally weighted components:
Specialization in Software Engineering or Information Systems (25%)
Electives (25%)
Projects (25%)
Master's thesis (25%)
During the first year, students focus on their specialization and electives. Electives cover a variety of fields: computer science, business information systems as well as business administration. In their second year, students work on various projects and write their Master's thesis.
All modules specific to the specialization in Software Engineering are taught in German. All modules specific to the specialization in Information Systems are taught in English.
Electives are offered in German as well as English. For students with proficiency in only one language (English or German) the choice of electives is limited. It is possible, however, to fulfill the electives requirements in only one language.
Specialization: Software Engineering
Additional information on the specialization in Software Engineering is available in German.
Specialization in Information Systems - Modules
IT Compliance & Risk Management
Analytic Applications
Business Intelligence
Performance Management
Enterprise Architecture Management
Specialization: Information Systems
The specialized modules in Information Systems are divided into two parts.
The first part focuses on the development and implementation of an IT infrastructure for corporate management purposes. The second part deals with the inter-departmental processes related to this IT infrastructure as well as with the corporate IT architecture as a whole. This includes adjusting and monitoring a company's business process architecture and IT development plan based on security models, cost-benefit analyses and strategic concepts.
Electives
Five electives are to be selected.
Electives offered in German
Specific Fields within Mathematics
IT Security
IT Consulting
Business Process Management
General and Corporate Management
Specific Aspects of HCI
Project Management
Electives offered in English
Operations Research
Data Mining
Leadership Principles and Strategic Management
Databases
Business Administration
Project Management
Projects
Students are required to complete three projects, either with a focus on Software Engineering or on Information Systems