Communication Systems and Networks (Master's program)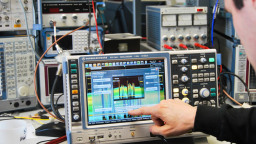 Information and communication technologies are well established in nearly all industrial fields and the private sector. The study program on Communication Systems and Networks allows students to achieve a deeper understanding of the complex features of modern and future communication systems and services.
Economic and technological developments in the information and communications industry are strongly influenced by joint soft and hardware solutions and by system inter networking. A wide range of standards and technologies has to be used to find optimum solutions. Therefore, a broad inter-disciplinary education is necessary to cope with future problems
The focus of the study program lies on the consolidation of the theoretical knowledge in combination with practical scientific work. Each module is supplemented by practical training courses.
The students have to conduct an individual R&D project in the framework of a university research project to improve their scientific capabilities. The Universities of Applied Sciences traditionally carry out R&D projects in cooperation with external companies.
Since the program is presented in English the number of international students enrolled in the program is significant.
The program is organized by the Institute of Computer and Communication Technology which is part of TH Köln (University of Applied Sciences) Faculty of Information, Media and Electrical Engineering, in cooperation with the Bonn-Rhein-Sieg University of Applied Sciences in St. Augustin.
This program is accredated by ASIIN, a well-respected German quality assurance institution.
At a Glance
Category
Description
Program

Communication Systems and Networks

Degree

Master of Science (M.Sc.)

Type of program

Full-time program

Beginning of program

Winter and summer semester

Program duration

3 semesters

Credits

90 ECTS credits

Language of instruction

primarily English

Campus

Deutz Campus

Restricted admission

No

Please note

International double degree possible

More
Accreditation

Internal accreditation based on institutional accreditation standards, until Sep 30, 2025

Flyer

Print all info as PDF

More

(pdf, 145 KB)
Is this the right program for me?
One of the admission requirements is a suitable undergraduate degree in the field of natural sciences or technology and engineering. A program is deemed suitable if its curriculum includes a minimum of 110 credits in the fields of mathematics, physics, electrical engineering and computer science. The undergraduate degree must be worth 210 ECTS credits and successful applicants have a final grade of 2.3 or better according to the German grading system. Please refer to the examination and enrollment regulations for more detailed information. If applicants do not meet all requirements their admission will be conditional and they will be expected to meet certain conditions prior to registering for the Master's thesis. The Examination Board decides on the nature and scope of these conditions based on the courses of the undergraduate program. Excellent English language proficiency is also required.
Besides meeting these criteria, you should
be interested in information and communications technology
be highly motivated
be able to work and research independently
conduct our self-assessment test to check your personal qualification for the program (please follow the instructions document on the right hand side). Please note that a test with a similar level of difficulty will be conducted for each single course as a prerequisite for participation at the beginning of the semester.
be able to prove some basic programming knowledge in a standard programming language like C/C++, Java, or Python (basic programming skills will be tested before you are allowed to enter some of the labs)
Program objectives
The objective of the Master's program is to provide interdisciplinary training and education for engineers, qualifying them to work in the industrial, economic or public sector. Graduates are well-equipped to work in fields such as communications and information technology and can help strengthen industrial as well as economic competitiveness. The program provides a solid scientific basis and teaches scientific and technological ways of thinking and working that are essential to the field of communications and information technology. Students' skills and knowledge gained at undergraduate level will be expanded and deepened and a broad theoretical basis will be laid. It is our goal to provide graduates with the opportunity to continue their academic career with a doctorate degree. Graduates have the ability to conduct scientific work independently. They are in a position to work independently in the industrial or economic sector or as academic or research staff in private or public research institutes.
Program structure
In the first and second semester, students focus on their specialization which they choose according to their personal interests. The third semester is reserved for the Master's thesis and the subsequent final oral examination.