Working@TH Köln – Experience Academia
In 2019, 44 percent of college graduates in North Rhine-Westphalia were female, but only a quarter of the professorships were held by women. Diversity also declines at every career level in terms of nationality, educational background, and disability. In order to counteract this problem as early as possible, TH Köln launched the program Working@TH Köln - Experience Academia for student assistants.
About the program
Info
"Working@TH Köln – Experience Academia" is a measure from the "Improving Recruitment" sub-project of the PLan_CV project.
The program and its goals
"Working@TH Köln – Experience Academia" brings students and professors together. Students are hired as research and teaching assistants. In exchange, they can expand their academic skills, familiarize themselves with academic career paths, and learn about the job profile for a professorship at a university of applied sciences.
The goal of this measure is to motivate and encourage as diverse a group of students as possible to pursue an academic career.
Time period
Working@TH Cologne - Experiencing Science" is a temporary learning arrangement in combination with a job for professors. The duration and scope of the employment must be matched with the coordinator Karin Oberzier. Assignments are possible for a period of 3 to 5 months with 8 to 15 hours per week and in total for 180 hours.
The next season of "Working@TH Köln" will take place from 1 September to 31 January 2024. The application deadline for interested students and professors was 7 June 2023.
We would like to thank all applicants and professors for their great interest.
The next application period for the winter semester 2024/25 starts on 10 April 2024.
Financing
This measure will receive financing from the Federal Ministry of Education and Research (BMBF) funding line if the abovementioned criteria are fulfilled. The Career Service can advise you on the application process.
Information according to target groups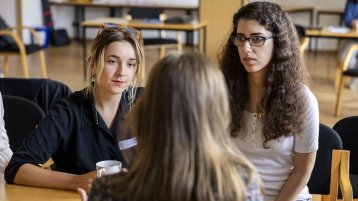 For students
Are you studying at least in the 3rd Bachelor semester at TH Köln and would like to work on your own teaching or research project as a student assistant?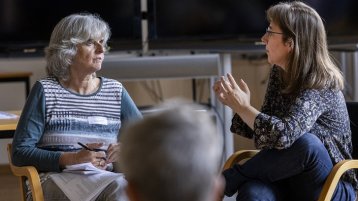 (Image: TH Köln/Michael Bause)
For professors
Are you interested in mentoring students on part of their career journey? Is supporting young academics an important priority for you, and are you also looking for help with your research project and your subject area?
"Working@TH Köln – Experience Academia" is part of the project "Rethinking professorial careers at universities of applied sciences: Collaboration and networking" (PLan_CV). Its goal: Finding excellent candidates for professorial careers at TH Köln, and achieving greater permeability between the academic world and the business sector. The project's budget of 12.4 million euros is funded through the Federal Ministry of Education and Research program to attract and qualify professorial staff for universities of applied sciences.

(Image: BMBF/GWK)