Open Zoom consultation hours for international degree-seeking students and prospective students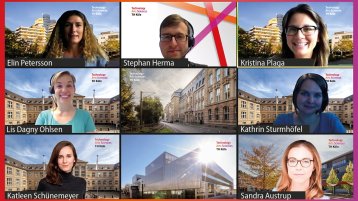 You would like to do your Bachelor or Master at TH Köln and you don't have a German school leaving certificate? You are an international degree-seeking student at TH Köln and have questions?
Notes on open zoom consultation
In order to limit the spread of the coronavirus (Covid-19), we are unfortunately unable to offer you personal consultation hours at our locations until further notice.
However, in order to give you the possibility of a face-to-face consultation, we offer an open zoom consultation hour on Tuesdays between 10:00 and 12:00 o'clock (UTC+2). It is not necessary to register with us in advance.
Simply dial in via the following zoom link:
Zoom Link: https://th-koeln.zoom.us/j/97580047797
Meeting ID: 975 8004 7797
identification code: 2020
Please note that Zoom is a service provided by Zoom Video Communications, Inc., which is based in the USA. Personal data is therefore also processed in a third country. TH Köln has concluded an order processing contract with the provider of Zoom which complies with the requirements of Art. 28 GDPR. Nevertheless, TH Köln considers this tool to be unsuitable for sensitive/confidential content and sensitive/psychological consulting sessions. We therefore recommend that you do not discuss sensitive personal data with us during consultation hours. The data will be processed in accordance with your consent and your own decision as to which content you will share with us during consultation hours.
September 2020