Certificate "Sprache, Studium, Berufseinstieg"
Personal initiative, strong communication skills as well as the ability to work independently and solution-oriented – all of these skills are in great demand on the job market. The certificate "Language, Studies, Career Start" helps you to improve these skills and to attract the attention of potential employers. Get yourself ready for your studies and the job market in Germany!
Target Group
The Certificate is primarily aimed at refugees studying at TH Köln, but is also open to international students without a refugee background.
Benefits of the certificate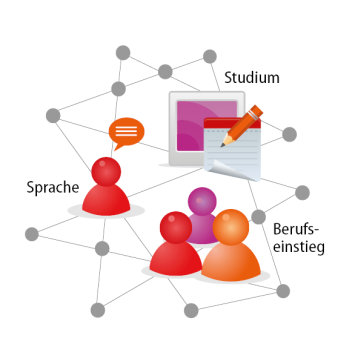 You will strengthen your communication skills in intercultural work and learning settings.
You will learn to assess your abilities and to apply strategies for self-directed learning and working.
You will develop your university-specific and business-related language competence.
You will learn strategies for finding internships and jobs on the German job market and for writing an unsolicited application.
You will compile an application portfolio which you can use to prepare your application documents.
You will train how to present yourself convincingly in a job interview.