Integrated Design (Bachelor's program)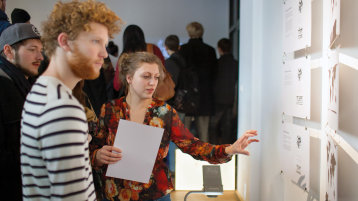 The Bachelor's Program in »Integrated Design« of the Köln International School of Design (KISD) features a nationwide, unique, non-linear and multi-semester study model which offers a high level of individual design opportunities thanks to its transdisciplinary, project-oriented and international structure.
The Bachelor's Program in »Integrated Design« integrates different design and scientific approaches from design areas and design-related disciplines. Students gain extensive methodology skills from at least ten areas of expertise as well as other design, analytical and conceptual specialist knowledge, in a flexible study structure of seven semesters. Thus, they systematically begin to understand and use the diversity of design. These qualifications are complemented by intercultural experience and language competence. This degree program enables students to work towards solutions to current issues in design, to carry out project work in a flexible and independent manner in a different cultural context, and to face challenges in an international context.
Study Courses
The Bachelor Degree Program Integrated Design offers two study courses to students at the end of their first year of study at KISD.
Study Course »Transdisciplinary Design«
In the study course »Transdisciplinary Design«, students work in multi-semester projects and seminars on complex design processes and acquire a broad knowledge of contents, working practices, and methodologies of design while developing extensive analytical, conceptual, and design specific competence, which they link with cross-cultural and international experience.
Self-initiated teaching and research projects allow them to develop their own interests and to set individual focal points. Supported by a mentoring program, they learn to redefine and discuss their development as a designer again and again.
Study Course »European Design«
In the study course »European Design«, students spend the first four semesters of their studies at KISD. Afterwards, they study at two of the European MEDes partner universities. After these two years, students return to KISD to finish their Master's thesis.
The MEDes network encompasses seven European universities featuring an innovative and international design education. Besides KISD these include: Aalto School of Art & Design (Helsinki, Finland), Glasgow School of Art (Glasgow, UK), ENSCI Les Ateliers (Paris, France), Konstfack (Stockholm, Sweden), Politecnico di Milano (Milan, Italy) and the University of Aveiro (Aveiro, Portugal).
At a Glance
| Category | Description |
| --- | --- |
| Program | Integrated Design |
| Degree | Bachelor of Arts (B.A.) |
| Type of program | Full-time program |
| Beginning of program | Winter semester |
| Program duration | 6 semesters |
| Credits | 180 ECTS credits |
| Language of instruction | German, English |
| Campus | Südstadt Campus |
| Restricted admission | No |
| Additional requirements | Program-related aptitude test |
| Accreditation | Internal accreditation based on institutional accreditation standards, until Sep 30, 2028 |