Prof. Dr. Morven Beaton-Thome
Dr. phil.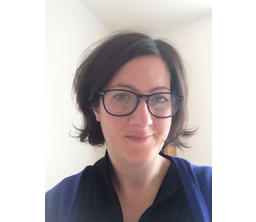 Campus Südstadt
Ubierring 48
50678 Köln
Mailing address
+49 221-8275-3341

morven.beaton-thome@th-koeln.de
Office hours
Summer semester 2023

Campus Südstadt, Ubierring 48, Room 453
In summer semester 2023, I will be offering both face-to-face (Room 453, Ubierring 48) and online consultation hours (via Zoom). Please schedule an appointment with me at https://www.timify.com/de-de/profile/beatonthome/. If you book an online appointment, I will send you a Zoom invite with the details of the meeting.
Positions
Member of the Faculty Teaching and Learning Committee

Institute board member ITMK

Erasmus contact (MA) for the University of Malta (MT)

Erasmus contact (MA) for Swansea University (UK)

Erasmus contact (MA) for KU Leuven (BE)

Erasmus contact (BA) for the University of Southampton (UK)
Teaching disciplines
Theory and Practice of Interpreting (English)

Interpreting Studies; Discourse and Text Analysis; Consecutive and Simultaneous Interpreting D-E; Note-taking for Consecutive Interpreting; Translation for Interpreters; Multilingual Conference Interpreting; Area Studies (English); Liaison Interpreting
Research fields
Ideological Positioning and Interpreter Agency in Institutional Settings

Multilingualism in Institutions

Negotiation and Construction of the Self/Other dichotomy, particularly in settings of nationalism and immigration

Diversity and Superdiversity

Discoursal Identity Construction, particularly related to Scots in the diaspora

(Critical) Discourse Analysis

Interpreting Pedagogy, particularly Situated Expertise and Communities of Practice
Projects / Cooperations
Frames and Narratives of Translation and of Migration in Europe

This is a four year Spanish research project, coordinated by Mario Bisiada and Maria Aguilar Solano at Pompeu Fabra University in Barcelona. It was awarded funding in July 2020 from the Spanish Ministry of Science and Innovation. My contribution will focus on discourses of migration in Germany and ethnographic research into interpreted interaction between authorities and migrants in Germany.
Publications
Ahrens, Barbara; Beaton-Thome, Morven; Rütten, Anja (2021): The Pivot to Remote Online Teaching on the MA in Conference Interpreting in Cologne : Lessons Learned from an Unexpected Experience. In: The Journal of Specialised Translation., S. 251 - 284. (peer-reviewed/Open Access)
Beaton-Thome, Morven (2021): Interpreting Studies and the Dissemination of Knowledge. In: Poli-Femo : Nuova Serie di Lingua e Letteratura., S. 3 - 17. (peer-reviewed)
Beaton-Thome, Morven; Wienen, Ursula (2021): The Hill We Climb – Den Hügel hinauf. In: Inside out : Das Hochschulmagazin der TH Köln. Vol. 2001, S. 24 - 28. (Open Access)
Ahrens, Barbara; Beaton-Thome, Morven; Krein-Kühle, Monika; Krüger, Ralph; Link, Lisa; Wienen, Ursula (Hrsg.) (2020): Interdependenzen und Innovationen in Translation und Fachkommunikation / Interdependence and Innovation in Translation, Interpreting and Specialised Communication. Berlin: Frank & Timme.
Beaton-Thome, Morven (2020): Flagging the Homeland: Interpreting Brexit à la Nigel Farage in the European Union. In: Strani, Katerina (Hrsg.): Multilingualism and Politics : Revisiting Multilingual Citizenship. Cham: Springer International Publishing, S. 105 - 128. (peer-reviewed)
Beaton-Thome, Morven (2018): Situated Expertise in Interpreting. In: Ahrens, Barbara; Hansen-Schirra, Silvia; Krein-Kühle, Monika; Schreiber, Michael; Wienen, Ursula (Hrsg.): Translation - Didaktik - Kompetenz. Berlin: Frank & Timme, S. 145 - 167.
Beaton-Thome, Morven (2013): What's in a Word? Your Enemy Combatant is my Refugee: The Role of Simultaneous Interpreters in Negotiating the Lexis of Guantánamo in the European Parliament. In: Journal of Language and Politics. Vol. 12, S. 378 - 399. (peer-reviewed)
Beaton-Thome, Morven (2010): Negotiating Identities in the European Parliament: The Role of Simultaneous Interpreting. In: Baker, Mona; Olohan, Maeve; Perez Calzada, Maria (Hrsg.): Text and Context : Essays on Translation and Interpreting in Honour of Ian Mason. Manchester: St Jerome Publishing, S. 117 - 138.
Beaton-Thome, Morven (2007): Interpreted Ideologies in Institutional Discourse : The Case of the European Parliament. In: The Translator : Studies in Intercultural Communication. Vol. 13, S. 271 - 296. (peer-reviewed)
Curriculum Vitae
since 2013
Professor for Theory and Practice of Interpreting (English)
at the Institute for Translation and Multilingual Communication, TH Köln - University of Applied Sciences, Cologne
2007 - 2013
Lecturer in Interpreting and Translation Studies
Centre for Translation and Intercultural Studies (CTIS), The University of Manchester, UK
2007
PhD in Interpreting Studies
Heriot-Watt University, Edinburgh, UK 'Intertextuality and Ideology in Interpreter-mediated Communication: The case of the European Parliament' Supervisors: Professor Emeritus Ian Mason, Professor Colin B. Grant