Prof. Dr. Christine Horz-Ishak
Dr. phil.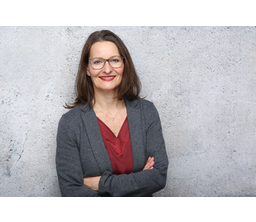 Campus Südstadt
Ubierring 48
50678 Köln
Room 450 Mailing address
+49 221-8275-5263

christine.horz@th-koeln.de
Office hours
during winter term 2023/24
Friday, 12:30 to 14:00 , Room online (Zoom)
Please make an appointment for an individual consultation hour via ILU or E-mail. The consultation hours usually take place via zoom, in exceptions in person.
Research fields
Media and Diversity, racism and media, future of public service media
Projects / Cooperations
Founding Member of the DFG Network Cosmopolitan Communication Studies (KosmoKW)

The research network is committed to a "deep" internationalization of German communication studies.

Introduction and position paper
Publications
Herausgeberin (seit 2011): Global Media Journal - DE/ Publisher of the Global Media Journal_DE

Publisher: Horz-Ishak, Christine und Richter, Carola

Monografie: Medien - Migration - Partizipation (2014): Eine Studie am beispiel iranischer Fernsehproduktion im Offenen Kanal

Horz-Ishak, Christine (2023). Diversity in Media Societies: Theoretical and Practical Implications of Pluralistic Voices in the Media [Special Edition: Diversity in Media Societies - Editorial]. Global Media Journal – DE, Vol. 13 (1)

Publisher: Christine Horz Ishak

Horz-Ishak et al. (2023): Die "tiefe Internationalisierung" der deutschen Kommunikationswissen- schaft? Eine Evaluation der Personal- und Forschungsstrukturen sowie der Lehrprogramme deutscher Hochschulen. Global Media Journal – German Edition, 13(1)

Carola Richter, Anne Grüne, Kai Hafez, Anke Fiedler, Markus Behmer, Christine Horz-Ishak, Hanan Badr, Anna Litvinenko, Oliver Hahn, Melanie Radue, Aynur Sarısakaloğlu, Martin Löffelholz, Susanne Fengler, Beate Illg, Kefa Hamidi, Thomas Hanitzsch & Barbara

Horz-Ishak (et al.) (2022): Gender inequalities in and through the media. Comparing gender inequalities in the media across countries. In: Success and Failure in News Media Performance..., 79-100.

Publisher: Trappel, Josef; Tales Tomaz

http://norden.diva-portal.org/smash/get/diva2:1641194/FULLTEXT02.pdf

Horz-Ishak, Christine & Thomaß, Barbara (2021): Germany - Solid Journalistic Professionalism and strong Public Service Media. In: The Media for Democracy Monitor. How leading news media survive digital transformation, Vol. 1. Nordicom, 197-256

Publisher: Trappel, Josef & Tomaz,Tales

https://www.nordicom.gu.se/en/publications/media-democracy-monitor-2021

Horz-Ishak (2021): Diversity umsetzen und evaluieren. In: Diversity Guide Wie deutsche Medien mehr Vielfalt schaffen, Berlin, 120-132

Publisher: Neue deutsche Medienmacher:innen e.V.

https://neuemedienmacher.de/wissen-tools/diversity-im-medienhaus/

Horz (et. al.) (2020): Kosmopolitische Kommunikationswissenschaft: Plädoyer für eine "tiefe Internationalisierung" des Fachs in Deutschland. Ein wissenschaftliches Positionspapier. In: Publizistik (2020) 65:295-303

https://link.springer.com/article/10.1007/s11616-020-00576-6

Horz (2020): Wie divers sind deutsche Medien? In: Viele Wille, kein Weg. Diversity im deutschen Journalismus. Berlin, 24-67.

Publisher: Neue deutsche Medienmacher:innen e.V.

https://neuemedienmacher.de/fileadmin/dateien/PDF_Borschueren-Infomaterial-Flyer/20200509_NdM_Bericht_Diversity_im_Journalismus.pdf

Horz (2020): Berichterstattung über Fluchtmigration in den Medien – Stereotypisierungen – Medienanalyse – Effekte der rassifzierten Medienberichterstattung. In: Migration, Religion, Gender und Bildung. Beiträge zu einem erweiterten Verständnis von I

Publisher: Behr Harry Harun, Kulaçatan, Meltem

https://www.transcript-verlag.de/978-3-8376-4451-7/migration-religion-gender-und-bildung/

Horz (2020): Medienkritik als Selbstermächtigung: Öffentlich-rechtliche Medien im Fokus medienkritischer AktivistInnen in Europa. In: Medienkritik: Zwischen ideologischer Instrumentalisierung und kritischer Aufklärung. Grundlagen – Fallanalysen – Pr

Publisher: Bucher, Hans-Jürgen

https://www.halem-verlag.de/produkt/medienkritik-zwischen-ideologischer-instrumentalisierung-und-kritischer-aufklaerung/

Horz (2020): Diversität und Partizipation in den Medien Kritische Perspektiven der transkulturellen Kommunikationswissenschaft. In: Politik & Kultur | Nr.12/19-01/20, 35.

https://www.kulturelle-integration.de/2019/12/20/diversitaet-und-partizipation-in-den-medien/

Horz (2020) "Nutzer von ARD und ZDF müssen in Entscheidungen eingebunden werden". Interview mit Steffen Grimberg, MDR360.

https://www.mdr.de/medien360g/medienpolitik/interview-christine-horz-102.html

Horz (2019): Between Access and Exclusion: Iranian Diasporic Broadcasting in Open TV Channels in Germany. In:Handbook of Diasporas, Media and Culture. WileyBlackwell/IAMCR. Global Handbooks in Media and Communication Research Series (5th Vol.). Hobo

Publisher: Retis, Jessica and Tsagarousianou, Roza

https://iamcr.org/publications/iamcr-handbook/handbook-of-diasporas-media-and-culture

Horz /2019): MigrantInnen auf Sendung: Medieninstitutionen in Deutschland im Wandel. In: Sonderheft Rundfunk & Geschichte: Mediale Flieh- und Bindungskräfte: Migration, Identität und Medien.

Horz (2018): Networking Citizens: PSM and Audience Activism in Europe. In: Lowe, F. GregoryNetworking Citizens: PSM and Audience Activism in Europe. In: Public Service Media in the Networked Society: RIPE@2017, Nordicom: Gothenburg, 227-244.

Publisher: Lowe, F. Gregory; Donders, Karen & Van den Bulck, Hilde

http://www.diva-portal.org/smash/record.jsf?pid=diva2%3A1229695&dswid=-969

Horz (2018): Kommunikation in der Diaspora. Forschungsfelder, und -defizite medialer Repräsentation von Muslim*innen in Deutschland. In: Transformation religiöser Symbole und religiöser Kommunikation in der Diaspora – eine sozialpsychologische und religio

Publisher: Ceylan, Rauf

https://link.springer.com/book/10.1007/978-3-658-22195-9

Horz (2017): Publikumsperspektiven auf Transparenz und Finanzierung der öffentlich-rechtlichen Medien. In:Transparenz und Finanzierung öffentlich-rechtlicher Medien / Transparency and Funding of Public Service Media. Wiesbaden: VS, 279-291

Publisher: Torun, O.; Herzog, C.; Hilker, H. & Novy, L.

https://link.springer.com/book/10.1007/978-3-658-17997-7

Horz (2016): The Public: consumers or citizens? Participatory initiatives and the reform of Public Service Media (PSM) regulation in Germany. / O público: consumidores e cidadãos? Iniciativas de participação e a reforma da regulação do serviço público de

Publisher: Luís António Santos, Nelia Del Bianco

https://revistacomsoc.pt/index.php/revistacomsoc/article/view/823

Horz (2016): The Politics of Diversity and Public Service Media in Germany. In: Diversity in Transcultural and International Communication, 35-65

Publisher: Richter, Carola; Dupuis Indira & Averbeck-Lietz, Stefanie

https://www.lit-verlag.de/isbn/978-3-643-90609-0