Partner University of the Month (March 2021)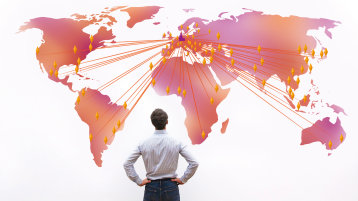 Last year we started with a new category - the partner universities of the month. Every month the Department of International Affairs introduced you to a European and a non-European partner university. In 2021 we will continue the series and introduce a European or non-European university partner on a monthly basis.
So let yourself be further inspired and follow us!
This March, we visit one of the youngest members of the European university family, the Vysoká škola technická a ekonomická v Českých Budějovicích (VSTE), the Technical and Economic University in České Budějovice.
Czech this out!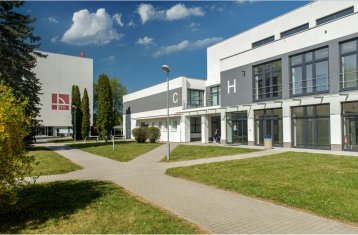 Founded in the Czech Republic in 2006, VSTE has become a modern university with around 4,500 students. The youngest University of Applied Sciences in the Republic puts a special emphasis on practical orientation.
Students of TH Köln in the field of Civil Engineering can experience these values in modern research laboratories featuring a wide variety in machines and equipment and exchange with one of the 1,600 Czech partner companies of the VSTE during a stay abroad. In any case, learning some Czech is certainly not a bad idea. Additionally, VSTE offers a versatile, English-language degree program with its bachelor's degree program "Building Construction". This program includes courses in areas such as computer science, building and architectural history and building materials, but also future-oriented topics such as sustainable building practices. These courses merely require English language skills at a B1 level.
If you want to prepare intensively for these different foreign languages before your studies, you are in luck: VSTE offers preparatory courses for both English and Czech. After the courses, you can plunge into the diverse campus life. For little money, international students can even live directly on campus in one of the dormitories. This means going from your bed to lectures in record time! Alternatively, just relax and grab a cup of coffee in the canteen, which provides the zealous students on campus with food virtually all day long. The best way to spend the afternoon on campus is in Céčko, the student café. If you prefer the silence of not having company, you can also wind down in one of the study rooms and prepare for the coming day. Maybe you can also go watch a game of the "Black Dogs", the campus ice hockey team (ice hockey is considered a Czech national sport, after all), or the "Black Cats", the women's basketball team.
Information day Czech Republic
An online Zoom information event on April 13 from 1:00 p.m. to 2:00 p.m. More information both here and in our "Events" section.
Should all these activities become routine for you, České Budějovice itself offers many more things to discover. The bus will take you from campus to the historic city center in about 15 minutes. However, thanks to the newly built infrastructure for bicycles, your own bike can also be a convenient and flexible alternative.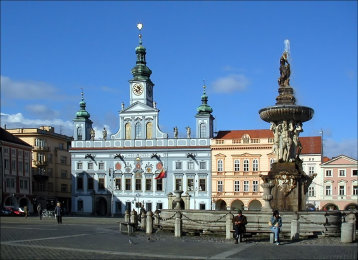 (Image: Abubiju gemeinfrei auf Wikimedia)
Students certainly know České Budějovice well thanks to its hundreds of years old brewery or the annual international beer festival "Golden Beer Seal". Certainly with good reason. Drinking beer is important in Czech culture in general and in České Budějovice in particular. A word of caution to everyone roaming the city at night, getting friendly with the locals in one of the many pubs: according to legend, the Lost Rock on Přemysl Otakar II Square causes those who cross it after ten in the evening to be unable to find their way home until dawn. That's when the lectures begin!
However, there are more than enough sites to enjoy in the city during the day. The Baroque old buildings around the central market square with the Samson Fountain, one of the most famous landmarks of the city, are considered the most beautiful in the whole Czech Republic. While it is nice to admire them from Přemysl Otakar II Square, you should consider looking at them from the Black Tower at a height of 45 metres. Here you can truly enjoy the view of the city. The only drawback are the countless steps to the top. If all this sounds like too much hustle and bustle, even though Budweis with its 94,000 inhabitants may seem small compared to Cologne, you will find a green oasis in the city forest Stromovka with Lake Bagrlocated at its heart. A break with a stroll along the two rivers Vltava and Malše, which cross the city, can be just as relaxing Such a walk gets even more enjoyable with a cool bottle of Kofola, the Czech alternative to Coca Cola, and a fresh Chlebíčky, small sandwiches, in hand and new friends by your side.
České Budějovice is a city with a rich history and a diverse culture in the heart of Europe. At the same time, practice-oriented teaching at VSTE is almost unparalleled. Our advice: pack your bags and czech this place out!
At a Glance
Name of University

Vysoká škola technická a ekonomická v Českých Budějovicích (VSTE)

Erasmus-Code
CZ CESKE04
Year of Foundation
2006
Type
public
Number of Students
4,500
Cooperation since
Tuition Fee
not applicable within the Erasmus+ program
Application Deadlines

March 15, 2021 for the winter semester 2021/22

September 15, 2021 for the summer semester 2022

Courses taught in English
Fact Sheet
please download here
March 2021