Partner University of the Month (February 2021)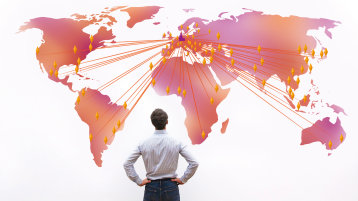 Last year we started with a new category - the partner universities of the month. Every month the Department of International Affairs introduced you to a European and a non-European partner university. In 2021 we will continue the series and introduce a European or non-European university partner on a monthly basis.
So let yourself be further inspired and follow us!
In February we will travel to Central Asia and visit the Kyrgyz State Technical University in Bishkek.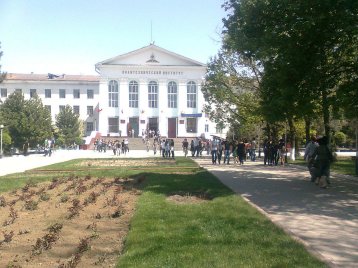 In February, we will be exploring a lesser-known study abroad destination in Kyrgyzstan, Central Asia: our partner university is called Kyrgyz State Technical University named after Iskhak Razzakov. If you are a student in the Faculty of Computer Science and Engineering Science on the Gummersbach campus, you will have the chance to spend your semester abroad in this beautiful post-soviet country. The University is situated in the capital city of Bishkek, which is also Kyrgyzstan's political, economic and cultural capital. The city itself lies in the north of the country and is set amid the beautiful mountains of Kyrgyzstan. If you are a mountain lover, Kyrgyzstan should definitely be on your bucket list, as most of the country's landscape is mountainous. In fact, it has more than 85 mountain ranges, which is why some call it "The Switzerland of Central Asia". The highest point Jengish Chokusu is more than 7,400 meters high and lies in Tian Shan Mountains ("Heaven´s Mountains") on the Kyrgyzstan-China border. Additionally, numerous lakes, rivers and canyons shape the country´s landscape. Issyk-Kul Lake, the second largest saline and high altitude lake, is definitely one of the highlights.
Kyrgyzstan is a great potential candidate for green energy as it generates a lot of energy from hydroelectric dams. It even has the capacity to export electricity to its neighboring countries. That said, both the mining and agricultural industry play an important role in the country´s economy as well.
Kyrgyzstan is also known for its hospitable people and authentic cuisine. One of the country´s delicacies is Beshbarmak, which literally translates to "five fingers", as it is traditionally eaten with hands. Beshbarmak consists of noodles and lamb or horsemeat and vegetable broth. Kumis, the country's national drink, is fermented horse milk with a shot of alcohol. Certainly some extraordinary specialties to taste.
Interestingly, many Kyrgyz people still live in a traditional, nomadic way. They move with their cattle through the mountains and valleys and sleep in yurts. The nomad culture in Kyrgyzstan is very accessible as the nomads are welcoming and will usually let you join them with open arms.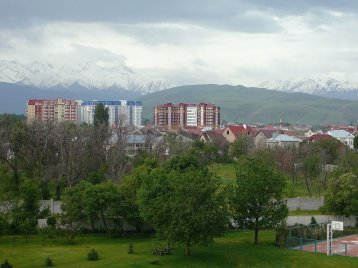 (Image: Jess&Peter - gemeinfrei auf Wikimedia )
Not only the country, but also the partner university has a lot to offer. The Kyrgyz State Technical University named after I.Razzakov was founded in 1954 and was, for many years, the only Higher Educational establishment in Kyrgyzstan. Today, it is among the leading technical universities in the country and with its more than 20,000 students, it is certainly among the largest. It consists of 4 faculties, 4 institutes, 4 regional training subdivisions, college, lyceum, 4 scientific-researching institutes and 7 training-scientific centers and is spread over 20 training campuses, covering more than 90,660 square meters. In 2004, the Kyrgyz German Institute was established, consisting of three departments: Telematics, Logistics, and Mechanics and Industrial Engineering. Thanks to this institute, there is also a limited offer of courses in German and English. However, it would definitely be very helpful to know some Russian, as most of the classes are taught in this language. The friendly employees at their International Office can help you with the selection of courses, classes and the awarding and recognition of ECTS credits. If you do not want to spend an entire semester this far from home, the university also offers interesting Summer schools. In 2021, you can participate in the following summer schools: Hydropower plants as renewable and most important energy sources in Kyrgyzstan in August or Kyrgyzstan - Hydropower, Ecology and Hydro morphology in September.
At a Glance
Name of University
Year of Foundation
1954
Type
public
Number of Students
20,000
Cooperation since
2010
Tuition Fee
not applicable
Application Deadlines

April 1, 2021 for the winter semester 2021/22

Oktobber 1, 2021 for the summer semester 2022

Courses taught in English
Images from the university and Bishkek
February 2021