Partner Universities of the Month (April 2020)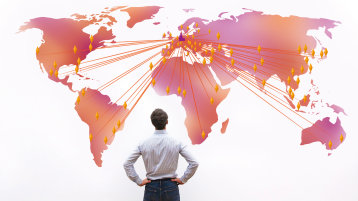 Beginning of the year: time for something new! We would like to start this year with a new section – the partner universities of the month. Every month, the Department of International Affairs will present one European and one non-European partner university. By presenting, we would like to inform you about the many possibilities you have when going abroad during your studies.
In April we will be presenting the Epitech, Paris campus in France and the Pontifícia Universidade Católica do Paraná in Brazil.
Paris is always a good idea!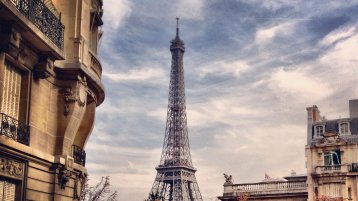 In 1954, one thing was certain for Sabrina (alias Audrey Hepburn): "Paris is always a good idea!"
But those who can only think of the Eiffel tower, Napoleon and the Avenue des Champs-Elysées when thinking of Paris, have probably (so far) only ever experienced the city in yearly broadcasts of Tour de France finales.
Visiting Paris means visiting one of the oldest, most famous and most important cities of Europe, if not the entire world. Around 300 BC the Celts founded the village of "Lutetia Parisorum" on a little island in the river Seine, which is now called the "Île de la Cité". Later, the city was conquered and remodeled by the Romans and the Franks, when it became the capitol of the Frankish Empire in the 6th century.
Today, about 2.2 million people live in Paris and more than 12 million in its metropolitan area.
In centralist France, Paris can offer you whatever you desire. As both the capital and the biggest city in the country, Paris is the hotspot for politics, culture, education and people from all over the world. Paris has often been called "capitol of music" in France, not only thanks to the "fête de la musique" which saw the light of day here in the 1980s. Classical music, contemporary rock, hip-hop and techno: Paris has it all!
Numerous museums and historical sites bear witness to thousands of years of history. But there's more to discover aside from museums, fashion and Mac(a)ron(s). Paris also puts the (not only) proverbial icing on the cake of the already world-famous French cuisine in a culinary way. Baguettes, cheese and wine, sure, that's France! However, here in Paris, France is also onion soup, honey and craft beer. And if you are homesick for Cologne, you can even enjoy a delicious Kölsch in the German "beer garden" in the 18th arrondissement.
If the hustle and bustle of the city should ever get too much for you, no problem: the large number of train connections allow you to discover the country on long weekends or during the semester break - in just 2 hours by train you are in beautiful Bordeaux or in picturesque Lyon.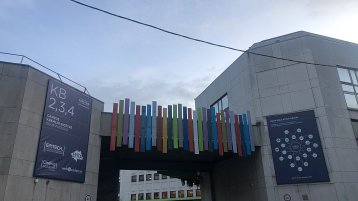 (Image: YtoSu - gemeinfrei auf Wikimedia)
EPITECH ("Ecole pour l'Informatique et les Nouvelles Technologies") is a private university and to a certain extent an expert university for the IT sector. Since its foundation in 1999, the campus on the outskirts of the city in Le Kremlin-Bicêtre has been teaching IT skills to some 5500 students from all over the world in an international and exchange-oriented atmosphere. EPITECH has a network of 17 campuses with their own innovation hubs in five European countries. And EPITECH is also in close contact with the private sector. Thanks to cooperation with companies and start-ups, not only from the region, 100% of EPITECH graduates have received employment (according to its own information).
In this international and business-oriented atmosphere, teaching is project-based and takes place in English. Hence, if you can only quote the chorus of Lady Marmalade in French, you are still in good hands here, especially since EPITECH also offers (voluntary) French language courses. However, good English language skills are a must.
With an Erasmus semester at EPITECH you can live in France and study in English - nothing is more European!
At a Glance
Name of University
EPITECH
Erasmus-Code
FR PARIS360
Year of Foundation
1999
Type
private
Number of Students
5,500
Tuition Fee
not applicable within the Erasmus+ program
Courses taught in English

The course directory for exchange students is available here.

Application Deadlines

September 15, 2020 for the summer semester 2021

March 15, 2021 for the winter semester 2021/22
Brazil – not made for wimps!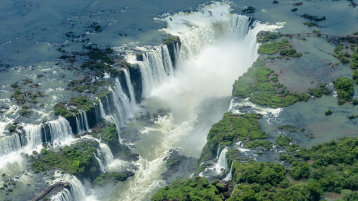 (Image: Enaldo Valadares - gemeinfrei auf Wikimedia)
Did you know that most showers in Brazil only know two temperature levels? Verão (summer) is symbolic for cold water, while inverno (winter) will provide you warm water. Brazil is nonetheless one of the countries where, statistically speaking, people like to take elongated showers, even if it is with cold water. Brazil is the fifth largest country in the world and famous for its wild and opulent carnival under the hot sun, the Seleçãos in football or the tropical rain forest in the amazon area. However, presenting merely one region or city would be like ordering a caipirinha and merely licking the ice cubes. Nevertheless, this month we shine the spotlight on a smaller state in the south of Brazil, Paraná.
Even though Paraná is one of the smaller states of Brazil, it is still about as big as the area south of Lower-Saxony and Saxony-Anhalt in Germany. Foz do Iguaçu is the state's main tourist destination and famous for its Iguaçu waterfalls, the largest in the entire world. Adventurers can view them from both the Argentinian and Brazilian side of the river. Both sides have established national parks offering amazing tropical flora and fauna. They even partly offer handicapped access.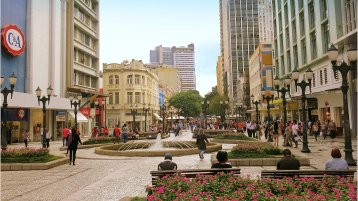 (Image: enioprado - gemeinfrei auf Wikimedia)
With its 1.9 million inhabitants, the metropolis of Curitiba is Paraná's capital. Curitiba calls itself "capital of ecology" and is famous for its exemplary public transportation network. Since 1926, Curitiba has the status of an archbishopric. The Pontifical Catholic University of Paraná was founded in 1959 and is affiliated with the roman-catholic church, which is quite common in Latin America. It is one of several private and public universities in the Curitiba region. PUCPR and TH Köln have been cooperating since 2009. While first partnerships had commenced between the respective architecture faculties, PUCPR has since opened its entire program for exchange students from TH Köln, for example economics, civil and mechanical engineering, information technology, architecture and social work.
By cooperating with international organizations and universities all around the globe, PUCPR is a perfect blend of an international scholar community with formidable study programs and groundbreaking research projects. Students get to learn more about different research programs before even starting their Master's degree by participating in scientific initialization programs. The Scientific Initiation Scholarship Programs (PIBIC) teaches students the techniques and methodology needed for research, helps them develop their own projects and reflect on their scientific thinking.
During the semester break in Brazil, PUCPR offers an international program called "Experience Language & Culture". The program takes place in the second half of January. By the way: Curitiba (in Brazilian Portuguese pronounced "Curichiba") is situated in the Southern hemisphere. That means they will be in the middle of summer while Cologne experiences semi-winter-like temperatures. If you are cold in Cologne, consider coming to Curitiba! After all, some like it hot…
At a Glance
Name of University
Pontifícia Universidade Católica do Paraná (PUCPR)
Year of Foundation
1959
Type
private
Number of Students
31,000
Number of Lecturers
Study at PUCPR Undergraduate Studies.

Language courses for exchange students

Portuguese for free, during the whole exchange semester

Tuition Fee

not applicable with student exchange with TH Köln

Application Deadlines

Exchange places of the Department of International Affairs:

October 1, 2020 for the summer semester 2021

April 1, 2021 for the winter semester 2021/22
April 2020