NBSINFRA: Where nature meets resilience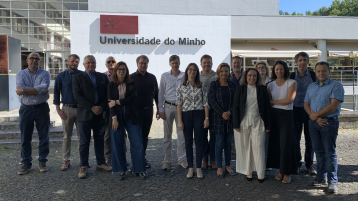 The EU-funded project – NBSINFRA – has been launched to help advance nature-based solutions with the aim of protecting critical urban infrastructure against hazards and creating urban environments resilient to climate change.
NBSINFRA is a new European project, focussed on advancing nature-based solutions for the protection of critical urban infrastructure against natural and human-caused hazards. By fostering innovation, community engagement, and sustainable practices, NBSINFRA strives to demonstrate that resilient urban environments can be created to face a range of climate change related hazards.
The consortium, led by Universidade do Minho in Portugal, is composed of experts in climate science, disaster risk management, infrastructure resilience, nature-based solutions, and adaptation measures. These experts, including the partner UNESCO, cover a range of disciplines and sectors including academia, research, SMEs, local governments, and non-profits.
According to Elisabete Teixeira, project coordinator: "We are effectively evaluating nature-based solutions that respond to the needs of communities, with a view to achieving a more resilient society capable of overcoming the imminent challenges of extreme climate events and man-made hazards."
NBSINFRA has selected five representative European regions for "City Labs" at the following locations:
Aveiro, Portugal
Prague, Czechia
Ruse, Bulgaria
Fingal, Ireland
Cologne, Germany
The City Labs will assess the viability, cost-effectiveness and social acceptability of nature-based solutions that will be citizen owned and co-created by end-users and managers and civil society, enhancing community empowerment. The City Labs will form case studies, representing a range of local urban scenarios in Europe with specific climate related challenges.
One of the main outcomes of NBSINFRA will be the development of a comprehensive toolkit to enable various stakeholders, including local governments, infrastructure managers, and community members, to compare and select the most effective nature-based solutions for keeping critical urban infrastructure safe.
The project was launched in Guimarães, Portugal on 26 September and ICONS is responsible for project communication and business models. Professors Alexander Fekete and Udo Nehren from TH Köln will be lead researchers for the Cologne City Lab case study, providing their expertise in rescue engineering and ecosystem management. Cologne faces a triple threat of enhanced hazards from climate change including heavy rainfall and flooding, drought and potential wildfire and urban heat island impacts. The Cologne city lab will examine the viability and social acceptance of nature-based solutions to address these challenges.
October 2023