Production and equipment rental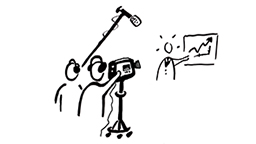 Cameras, audio-recorders, and personal response systems are just a few of the devices that can be employed in media-supported teaching. Our center for media production not only rents out media equipment but also produces media content tailored to your individual needs and teaching purposes.
Media production
Are you looking to complement your classes with video and audio-recordings but are not familiar with the technology needed? Our media experts will support you.
The media office currently offers the following services:
Recording of lectures
Recording of laboratory notes
Recording of laboratory placements
Rental of media equipment
This service is not available for students or student projects.
Examples
Safety instructions: laboratory
Greenscreen production: lecture
Rental equipment
This list provides an overview over equipment that may be rented.
Rental of media equipment
Would you like to record classes independently, produce screencasts or other types of images and sounds? Upon request, teachers and scientific staff members at TH Köln have the possibility to rent the necessary equipment from the center for media production. It is possible to rent video and photo cameras, directional microphones, recording equipment as well as their respective attachments.